Batangtoru, 26 September 2020 – PT Agincourt Resources, the operator of Martabe Gold Mine, reorganised the 2020 E-Coaching Jam (ECJ), in collaboration with the Faculty of Engineering of Universitas Gadjah Mada (UGM) with the theme Gold Mining Planning Strategy. This time, ECJ was held virtually via Zoom and Live Youtube and was attended by hundreds of students from UGM and several universities based in Yogyakarta.
ECJ is one of PT Agincourt Resources' annual programs as the real evidence of the company's contribution to improving the quality of education in Indonesia. ECJ is a forum for both online and face-to-face communication between students and many mining practitioners/experts from Martabe Gold Mine. Since its first implementation in 2014, ECJ has succeeded in bridging discussions of more than 40 mining experts with 3,000 students throughout Indonesia. This program has also been awarded the 2019 Indonesian CSR Awards.
Senior Manager Corporate Communications of PT Agincourt Resources, Katarina Siburian Hardono said, through ECJ, students from various mining-related majors can receive direct coaching and new understanding of this industry, so that later on they will be better prepared to face the world of work.
"This time ECJ, we presented two mining experts whose abilities are no longer in doubt. The first is the Dean of the Faculty of Mining and Petroleum Engineering of ITB Prof. Ir. Ridho Kresna Wattimena, MT, Ph.D., IPU who presented the material on Gold Mine Design and Senior Mining Manager of PT Agincourt Resources, Rahmat Lubis with the material of Making Basic Mining Planning Designs," said Katarina.
Furthermore, Katarina conveyed that through the two ECJ sessions, students were expected to increase their understanding and knowledge, not only about the potential of mining in Indonesia and various mining methods, but also how economic value affects gold mining planning.
"PT Agincourt Resources is committed to continuing to organize and develop ECJ to become a medium while at the same time facilitating the improvement of the academic quality of students, so that they are better prepared to engage and work in the mining industry. For students who want to ask further questions and join the ECJ community of Martabe Gold Mine, you may directly send an e-mail to Ma[email protected]," added Katarina
Lecturer and Researcher of the Geological Engineering Department of UGM, Lucas Donny Setiadji, appreciated the holding of ECJ by PT Agincourt Resources.
"Thanks to PT Agincourt Resources for supporting learning in universities. Hopefully the collaboration between universities and industry may become a foundation for supporting the independent learning program by the Ministry of Education and Culture and realizing the industrialization roadmap, especially in gold mining sector.
Geological Engineering student of UGM, Wahyu Ardiansyah said that the mining experts who were presented as speakers at ECJ activity always presented the latest information and knowledge. Wahyu joined ECJ last year in Yogyakarta.
"We do not only receive one-way information, but there is a lot of new knowledge that we can gain through discussion and question and answer sessions. I hope that ECJ will continue to be held regularly, so that students always have the opportunity to learn directly from the experts," Wahyu concluded.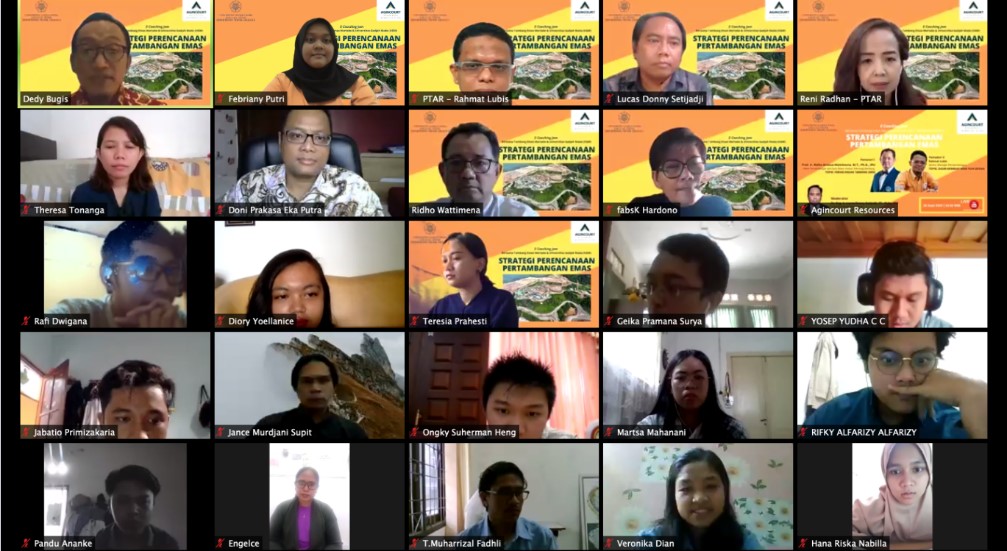 Photo 1: The participants of E-Coaching Jam 2020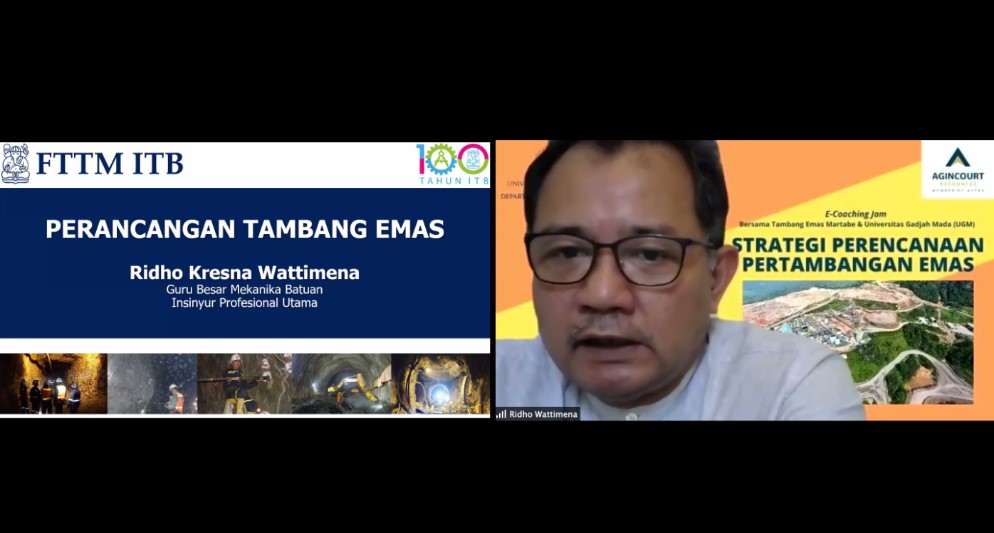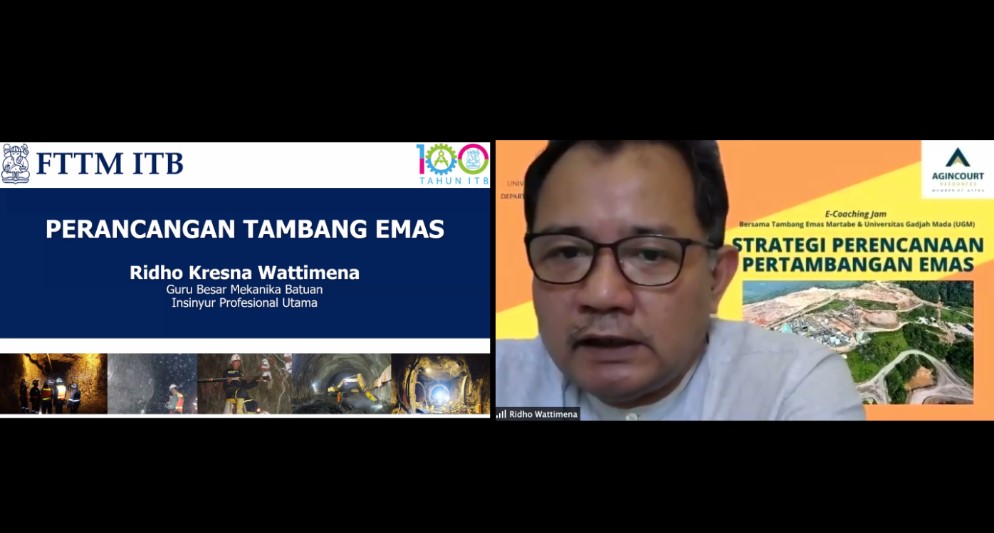 Photo 2: The Dean of Faculty of Mining and Petroleum Engineering – ITB Prof. Ir. Ridho Kresna Wattimena, M.T., Ph.D., IPU was delivering his presentation regarding Designing Gold Mine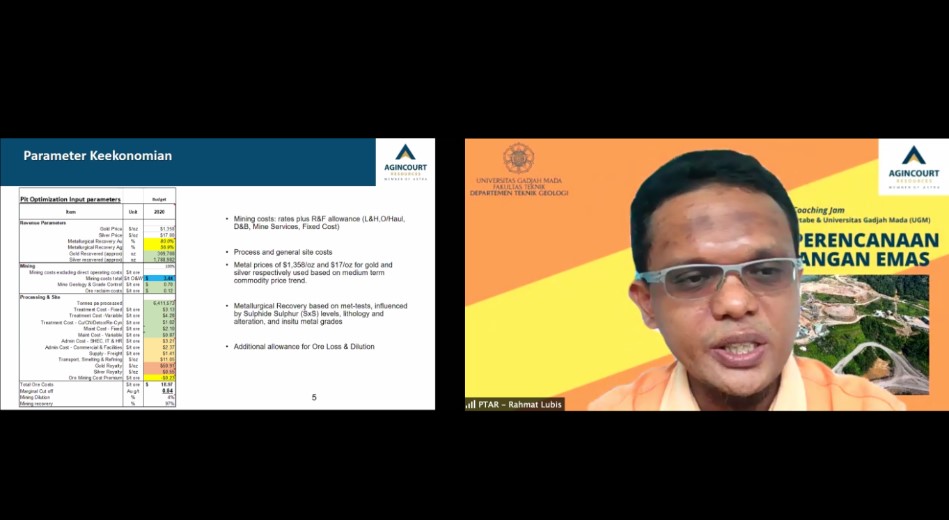 Photo 3: Senior Manager Mining PT Agincourt Resources Rahmat Lubis was delivering the Basic Design of Mine Planning