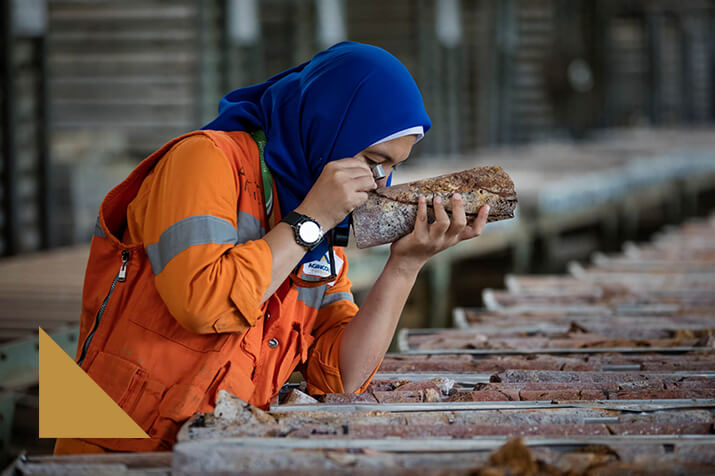 Succesful management of a modern mining operation is a complex undertaking requiring the contribution of many employees with a diverse range of experience, skills, education, and gender.
At PT Agincourt Resources, we recognise our talented and diverse workforce as a key competitive advantage. Our people are one of the key factors for the success of our business. We are committed to seeking and retaining people with the highest qualities including skills, experience, motivation and attitude to ensure good business growth and performance.
We are proud of our commitment to Gender Diversity, a core part of our GREAT values – the values that define who we are, what we do, what we believe and what we aim to accomplish. We believe that diversity enriches our performance, the communities where we live and work, and the lives of our employees.
We have started our journey towards a diverse workforce that reflects the communities in which we work. We have a strong commitment to increasing Women participation at all levels and at all fields in the workplace. To date we have achieved 20% female workforce. By end of 2019, we aim to have 25% of our workforce with females, including 40% Superintendent and Manager level roles. Our Gender Diversity policy was established to address the change in our working environment and the culture of the workforce to ensure our workplace is free of discrimination and enhanced by respect and dignity, and recognition of the benefits gender diversity brings.
We will achieve this through comprehensive training, continuing education and development, which are critical components to ensuring the longer-term plan to achieve such a bold, ambitious goals – but ultimately aim to really harness the potential of the entire population. This is also to allow both genders to have equal opportunities for advancement, especially for women to fill in the gap of occupying higher-level positions.
The aim is to establish a pervasive culture across the organisation where diversity is embraced as the norm, where women feel they can strive and actually do so, and in the end where our business see the winning results. The company has strived to embrace gender diversity in all aspects of its operation, by establishing a working culture and environment which is more supportive of gender diversity:
We have established and socialised the gender-diversity umbrella policy
We have revisited several policies and integrated gender-related issues in them including those in the recruitment and formal succession planning
We continue to ensure women's representation on key committees
We seek the opportunity for women to serve on the board and senior leadership
We encourage senior executives to mentor women
We are about to establish a zero tolerance for any means of harassment at workplace, and
We strive to provide the best environment possible for a well-trained and diverse workforce.
Despite the challenges that remain, we have never been more optimistic about the prospects for progress. Much work is under way, but we will soon be able to build a globally competitive workforce with the managerial courage to recognize the advantage of gender and diverse leadership. After all, our business and societies urgently need to make progress on diversity today in order to create powerful and productive engines of economic progress tomorrow!