Batangtoru, 11 August 2022 – PT Agincourt Resources (PTAR), the operator of Martabe Gold Mine, has again conferred Martabe Prestasi education scholarships for the 2022/2023 academic year to 288 outstanding students, worth a total of IDR 1.87 billion.
The Vice President Director of PTAR, Ruli Tanio, expressed his appreciation to the outstanding students who have striven for the Martabe Prestasi scholarship. He encouraged the students to stay enthusiastic and never give up on exploring knowledge, and be able to take advantage of the power of technology to produce the best work and benefit many people.
"We at PTAR are determined to encourage community development from various aspects, including health and education. We will continue to increase our contribution and add value to the surrounding community. This scholarship allows students in South Tapanuli to get opportunities and access to the best education which is later expected to improve the quality of people's lives, especially in South Tapanuli," said Ruli.
The awarding of Martabe Prestasi scholarships was held in Sopo Daganak, Batangtoru District, South Tapanuli, on 10 August 2022. The ceremony was attended by PTAR General Manager Operations Rahmat Lubis, PTAR Community Senior Manager Christine Pepah, Acting Branch Head of Education Office of Sidimpuan Al Benny Hevi Damanik, and Head of South Tapanuli Education Office Arman Pasaribu.
North Sumatra Education Council Aripay Tambunan, Chairman of Batangtoru MUI (Indonesian Ulema Council) Hotlan Dalimunthe, and education observer OK Hazmi Usman Siregar also participated, while PTAR Vice President Director Ruli Tanio joined online.
PTAR General Manager Operations, Rahmat Lubis, said Martabe Prestasi is one of the Community Development and Empowerment Programs (PPM) in the education sector that aims to improve the quality and access of education for outstanding students who are highly committed to achieving higher education levels.
This is the sixth Martabe Gold Mine Scholarship Program having been held. In total, since it was first held in 2017 to 2022, PTAR has distributed IDR 5.54 billion to 1,255 beneficiaries, from elementary to university level students of underprivileged families from South Tapanuli, North Sumatra.
"Martabe Prestasi started in 2017 with the coverage of beneficiaries in two districts, namely Batangtoru and Muara Batangtoru. In the spirit of bringing about change, starting in 2022 the coverage of beneficiaries will be expanded to senior high school and university levels covering all areas in South Tapanuli Regency," said Rahmat.
More Scholarship Recipients
In spite of the ongoing Covid-19 pandemic, PTAR's commitment to continue to play a role in improving the quality of public education does not fade. Evidently, the value of Martabe Prestasi scholarship in 2022 increased by 24% to IDR 1.87 billion compared to the previous year.
The number of beneficiaries this year also rose 17% to 288 students. A total of 206 students or 72% of the total beneficiaries are students who have just registered this year, consisting of 196 regular scholarship recipients and 10 special scholarship recipients. Meanwhile, 82 students received advanced scholarships, including 56 regular scholarship recipients and 26 special scholarship recipients.
Aripay Tambunan from North Sumatra Education Council appreciated the increase in the number of scholarship beneficiaries. According to him, the greater the number of the scholarship recipients, the more educated graduates that will be created to develop South Tapanuli.
PTAR Community Senior Manager, Christine Pepah, explained that all scholarship recipients were divided into several categories based on education levels and benefits. The details are 93 elementary school students and 51 junior high school students for the category of Academic Achievement Award (PPA). They will receive educational assistance in the current year amounting to IDR 500,000 for each elementary student and IDR 700,000 for each junior high school student.
"In addition, 23 senior high school students/equivalent received regular Continuous Achievement Award (PPB) category and 8 senior high school students received special PPB. Each student who wins regular PPB at the senior high school level/equivalent will receive a benefit of Rp. 3 million per year," said Christine.
Meanwhile, 10 students received the Continuous Achievement Award (PBB) at D3 (Associate's Degree) and S1 (Bachelor's Degree) levels of public and private universities in South Tapanuli worth IDR 6 million per student per year. Meanwhile, 19 students in PBB category at D3 and S1 levels from public and private universities outside South Tapanuli received IDR 12 million per student per year.
There are also two students who received PBB at S1 level from 10 National Leading State Universities (PTN), each of whom graduated from the Faculty of Agriculture of Universitas Sumatra Utara and the Faculty of Management of Universitas Diponegoro. The rest, as many as 82 students received advanced benefits from senior high school to university levels in 2019-2021. The recipients of special PBB for senior high school to university levels get all the education costs.
In addition to providing scholarships, PTAR will provide free tutoring programs for students of the IX grade junior high school level and the XII grade senior high school level majoring in science and social studies, facilitated by Professional Tutoring Institute. The objective is to create opportunities for graduation from Effective State Universities and Effective Senior High Schools determined by PTAR.
The symbolic conferment of Martabe Prestasi scholarships from PT Agincourt Resources (PTAR) to 288 outstanding students. The awarding of the scholarships was held in Sopo Daganak, Batangtoru, South Tapanuli, North Sumatra, on 10 August 2022. (Doc: PTAR)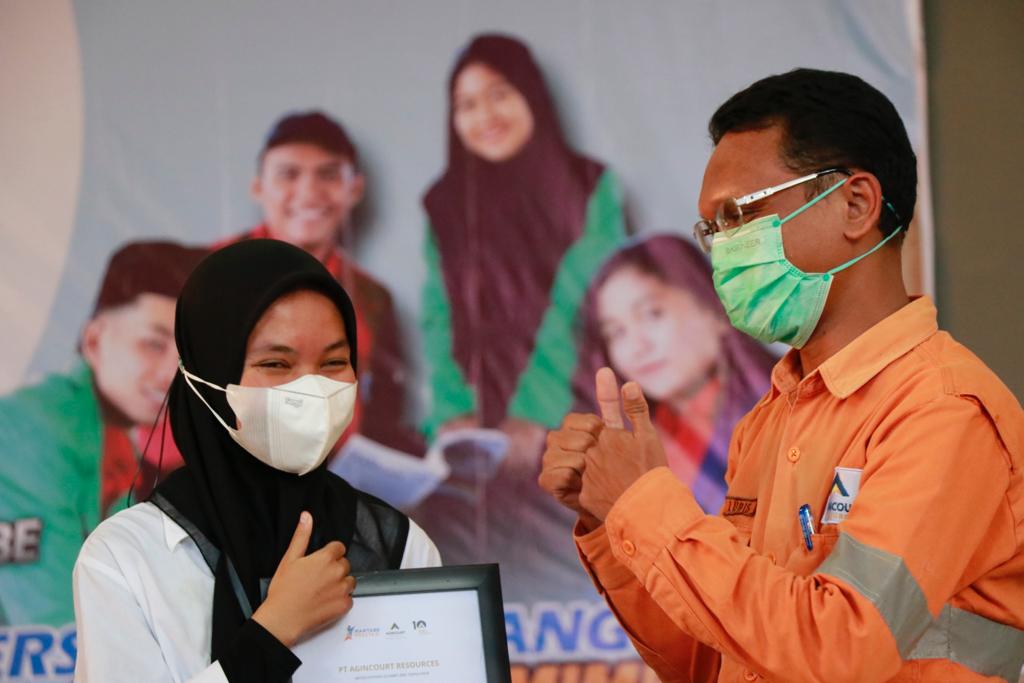 General Manager Operations of PT Agincourt Resources (PTAR), Rahmat Lubis, handed over Martabe Prestasi education scholarships for the 2022/2023 academic year. This is the sixth time PTAR has organized Martabe Gold Mine Scholarship Program. (Doc: PTAR)
Martabe Gold Mine Overview
The Martabe Gold Mine is managed and operated by PT Agincourt Resources. The mining area covers an area of 30 km² which is under the sixth generation Contract of Work (COW) with a total area of 1,303 km². The Martabe Gold Mine is located on the west side of the island of Sumatra, Batang Toru Sub-district, North Sumatra Province.
The Martabe Gold Mine began full production on 24 July 2012 and has a resource base as of 30 June 2021, of 7.5 million oz of gold and 66 million oz of silver. The operating capacity of the Martabe Gold Mine is more than 6 million tonnes of ore per year to produce more than 300,000 ounces of gold and 2-3 million ounces of silver per year.
PT Agincourt Resources involves more than 3,000 employees and contractors, around 99% of whom are Indonesian citizens, and more than 70% are from local villages. PT Danusa Tambang Nusantara (PTDTN) holds 95% shares of PT Agincourt Resources. PTDTN is a subsidiary of PT United Tractors Tbk. with 60% share ownership and PT Pamapersada Nusantara with 40% share ownership, as well as part of PT Astra International Tbk business group. A total of 5% of PT Agincourt Resources' shares are owned by South Tapanuli District Government and North Sumatra Provincial Government.
For other information, please contact:
Katarina Siburian Hardono
Senior Manager Corporate Communications of PT Agincourt Resources
M +62 811 9005146