Batangtoru, 16 October 2022 – PT Agincourt Resources (PTAR), the operator of the Martabe Gold Mine, has successfully held free cataract surgery four times in Batangtoru, South Tapanuli. There are 524 cataract eyes successfully cured, who are from various areas around the mine, South Tapanuli. After completing the surgery in Batangtoru, PTAR is ready to proceed with the Social Service of the Free Cataract Surgery "Open Eyes to See the Beauty of the World" at the Mencirim 77 Eye Hospital, Medan, North Sumatra with the surgery schedules are on 22 October, 12 November, and 23 November 2022.
PTAR Senior Manager of Corporate Communications, Katarina Siburian Hardono, said the people's enthusiasm is remarkably high to participate in the series of PTAR's free cataract surgery at the Bhayangkara Hospital, Batangtoru. It is proved by the total eyes operated that reach almost two times the initial target of 300 eyes, with the youngest patient of 28 years old and the oldest of 92 years old.
The high public interest was already seen in the first batch on 14 September and the second batch on 24 September 2022. From only the two batches of surgery, the total eyes operated reached 255 eyes. Entering October, the total number of patients registering was nearly the same as the two initial batches. Thus, the operation schedule that was supposedly made for one time only, became two times, namely 14 and 15 October 2022.
It turns out that not only does the community around the mine's operational area get the benefits from this cataract surgery, but the community from other districts and islands also reaps the benefits. The patients are recorded coming from several subdistricts in South Tapanuli. Some patients also come from Padangsidempuan, Mandailing Natal District, Padang Lawas District, and even some patients come from Nias Island.
"We are glad to be helpful for so many cataract sufferers coming from underprivileged families and having difficulty in accessing health services or surgery, either around the mine area or other districts. Even though the total number of patients exceeds the initial target, we continue to commit to providing excellent services by implementing the appropriate procedures. We congratulate and express our gratitude to all patients who have successfully undergone cataract surgery so that they can see clearly and become independent again. Please continue to follow the doctor's advice during the post-surgery recovery," Katarina said.
This year, PTAR collaborates with Mencirim 77 Eyes Hospital, Medan which has carried out cataract surgery for 17 years with ophthalmologists and there is no doubt about their capabilities.
"We are ready to hold free cataract surgery in Medan for cataract sufferers coming from underprivileged families. Do not delay seeing the beauty of the world. Use this good opportunity to recover the vision of your own, family, relatives, and acquaintances," Katarina invited.
Before undergoing the surgery, cataract sufferers must examine their eyes first to ensure they are feasible to conduct the surgery. The eye examination at Mencirim 77 Eye Hospital, Medan, opens on schedule on Mondays to Fridays from 09.00-12.00 WIB (Western Indonesian Time).
PTAR Senior Manager Community, Christine Pepah, added that the cataract surgery held by PTAR is one of the company's contributions to reducing the prevalence of cataract blindness in North Sumatra and Indonesia.
The Blindness Survey result of Rapid Assessment of Avoidable Blindness (RAAB) in 2014–2016 by the Indonesian Ophthalmologist Association (Perdami) and the Health Research and Development Agency of the Health Ministry in 15 provinces with a population target of age 50 years above showed that the blindness prevalence in Indonesia reached 3%, and the main cause of blindness and visual impairment is unoperated cataracts. Specifically, in North Sumatra, nearly 80% of blindness is caused by unoperated cataracts.
"The cataract problem in Indonesia, especially North Sumatra, is urgently needed to be solved. We want to play a role in solving this cataract blindness problem, by holding free cataract surgery, as one of the pillars of the community development program in the health field. Moreover, PTAR Management expresses its deepest gratitude for the support from Bhayangkara Hospital as the venue to hold free cataract surgery in Batangtoru, as well as Forkompimda of South Tapanuli that supported this program so that it could run smoothly," Christine said.
PTAR believes that this cataract surgery will give a positive sustainable impact on the beneficiaries and families as well as the surrounding environment of the community. When someone suffers from cataracts, they can lose their productivity and increase their family's economic burden. However, after undergoing the surgery and their vision returns, they can be productive again, work independently, increase mobility, relate socially and contribute to their community, and be prosper and emotionally healthy.
Gahban Lubis (55 years old), a teacher in an elementary school in Lubuk Kapundung, Mandailing Natal District, admitted that he was more enthusiastic about teaching after undergoing cataract surgery. When at first he felt impeded while teaching outside because the vision in his left eye was blurry, now after the surgery, he intends to be able to teach outside.
"Having cataract for these 3 years, I used to teach in the class, meanwhile, when I taught outside, a friend was helping me out. After my vision returns to normal, I can supervise students and teach outside the classroom," said Gahban.
His vision that will return to normal soon after the surgery will ease him to live his retirement period in the next few years.
"Alhamdulillah, I can participate in this free cataract surgery. I can teach students better, and later when I retire, I can garden. Thank you, Martabe Gold Mine," said Gahban.
An Ophthalmologist, dr. Jusni Saragih, Sp.M, who also conducted the surgery at Bhayangkara Hospital, Batangtoru, also appreciated PTAR's commitment to holding free cataract surgery by recruiting patients from remote areas and communities in need.
This cataract surgery, in her opinion, answers the community's need since some of the cataract sufferers let their eyes be unoperated for several factors, including, the difficulty of paying for the surgery, their living areas are far from the health facilities, and the minimum awareness of the community to the health of eyes.
"Cataracts can only be cured with surgery. And the cataract surgery held by PTAR can solve various obstacles in society. I hope this is not the last time for PTAR to hold the free cataract surgery, but continuously, because this activity helps the community," Jusni said.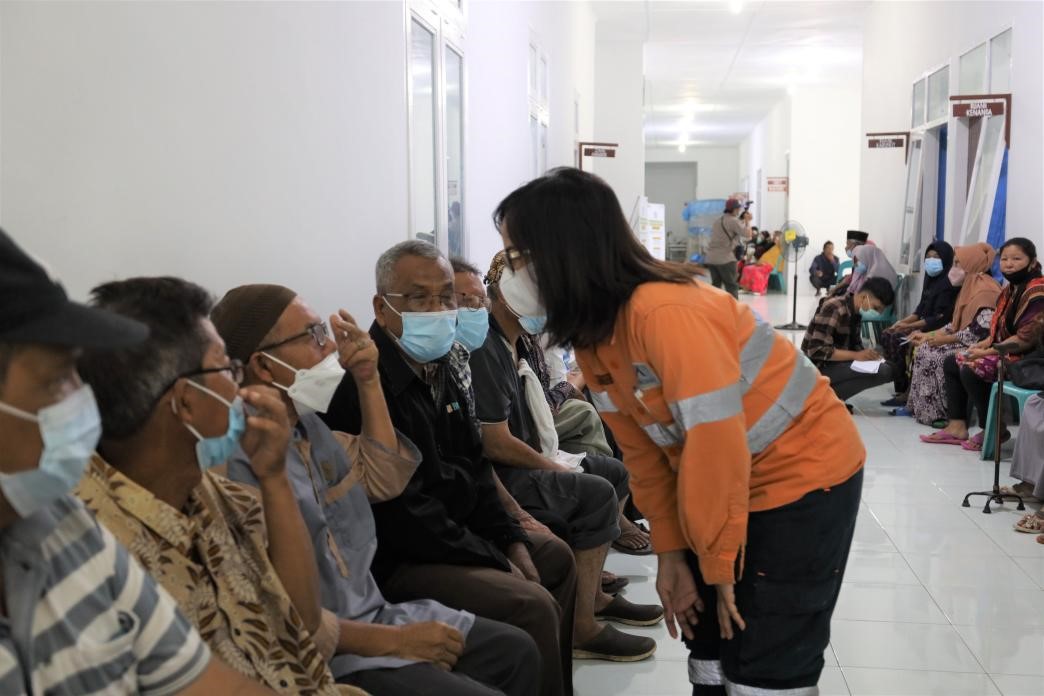 PT Agincourt Resources Manager Public Relations, Reni Radhan, was talking with a cataract sufferer. More than 100 patients packed Bhayangkara Hospital, Batangtoru, on 15 October 2022, the last day the free cataract surgery was held by Martabe Gold Mine.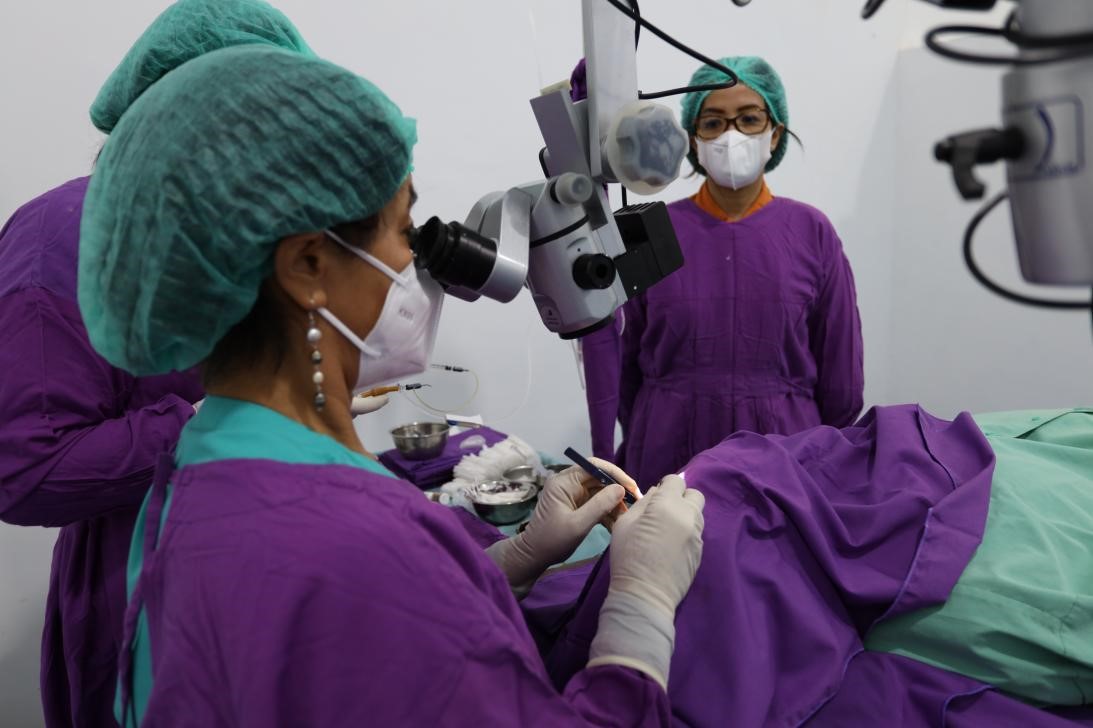 An Ophthalmologist, dr. Jusni Saragih, Sp.M, was carrying out cataract eye surgery at Bhayangkara Hospital, Batangtoru, South Tapanuli, on 14 October 2022. PT Agincourt Resources Manager Public Relations, Reni Radhan, also accompanied the patient undergoing the surgery.