SIPIROK, 6 April 2020 – PT Agincourt resources (PTAR), the operator of Martabe Gold Mine in Batangtoru ST, provided assistance to the Technical Implementation Unit (TIU) of RSUD in Sipirok in the form of APDs and consumables for Isolation Room at TIU of RSUD in the amount of IDR 250 million to support the efforts to accelerate COVID-19 handling in ST.
 The submission of the assistance is carried out directly by Pramana Triwahjudi, Senior Manager Community as PTAR management representative and is received by the Head of the South Tapanuli RSUD drg. Firdaus Batubara which is also attended by the South Tapanuli Regional Secretary, Parulian Nasution, Head of the Health Agency, Chairman of Covid-19 Handling Task Force, at Sipirok RSUD, on Monday (6/4). Pramana said that this assistance is a form of PTAR's concern in handling the spread of Corona Disease Virus (Covid-19) in South Tapanuli District through the COVID-19 Handling Task Force.
Related: Improving Welfare of the Batangtoru Farmers, Martabe Gold Mine Built a Suspension Bridge and Irrigation

According to Pramana, this assistance is part of PTAR's community development and empowerment program in the health sector. "Since the formation of the Covid-19 Handling Task Force in South Tapanuli District, PTAR has been coordinating to identify the most urgent needs. With the increase in cases in various regions, the goods needed are increasingly scarce, and only today that the handover can be completed. We hope this assistance will contribute to efforts to accelerate the handling of Covid-19 in South Tapanuli District," said Pramana.
 Pramana explained that the assistance provided included 60 sets of PPE, 60 boxes of Hand Scoon Sterile Uk 7 (powder), 50 pairs of Hand Scoon Obgyn Sterile (56 cm), 200 bottles of hand rub, 200 bottles of hand soap, 250 bottles of Disinfectant Spray, 10 units of trash cans, 50 pieces of infectious plastic, 50 pieces of non-infectious plastic, 100 units of safety box, 10 units of nebulizer and 17 units of thermometer scanner. "A total of IDR 250 million," Pramana said, adding that 17 thermometer scanners would be distributed to 16 Community Health Centers in South Tapanuli and South Tapanuli RSUD.
 In the effort to prevent and handle Covid-19, Pramana continued, PTAR has also shown concern for the community in Batangtoru and Muara Batangtoru Sub-districts. On 20 March 2020 PTAR together with Forkompimcam held a socialization activity for key stakeholders at the sub-district and village level regarding Covid-19 at the Batangtoru Community Health Center. "Right after the socialization at the Batangtoru Community Health Center, PTAR distributed disinfectant and spray equipment to 32 village representatives in Batangtoru and Muara Batangtoru Sub-districts," Pramana said. Spraying activities began on 26 March 2020 in several public facilities and markets followed by spraying disinfectants in places of worship and schools. Furthermore, on 27 March 2020 disinfectants and spray equipment were also distributed in Muara Batangtoru Sub-district. The spraying activities will be carried out by each village and kelurahan.
 Since the increasing number of Covid-19 cases in Indonesia, PT Agincourt Resources has implemented various policies to prevent the Covid-19 transmission and always follows the recommendations and rules regulated by the government regarding the handling of Covid-19.
 PTAR's Senior Corporate Communication Manager, Katarina Siburian Hardono said various actions have been taken including monitoring the health of employees and contractors through a screening questionnaire and daily body temperature tests at the site entrance gate. "We are temperature testing all employees and contractors, every person everyday" said Katarina. In addition, continued Katarina, PTAR puts in place a policy of stopping the entry of FIFO (Fly In Fly Out) employees (24% of employees) to the Martabe Gold Mine site for the month of April to reduce the risk of infection. PTAR also screens Local employee travel history in the situation where employees (75% of workforce) may have travelled outside their local region during their field break. Even for PTAR employees who are foreign nationals (1% of employees), none of them will return to Martabe Gold Mine until the situation is conducive.
 "PTAR also provides a 24-hour on-site clinic, doctor and medical staff. For PTAR, employee's health is top priority," said Katarina. According to Katarina, a number of "Standard Operation Procedures" have been carried out in a disciplined manner in order to maintain a hygienic work environment, healthy employees and business continuity of the Martabe Gold Mine, among others through the implementation of social distancing, and temporary elimination of site-visitation to create conducive condition. In fact, the Jakarta office has been locked down Since 23 March, until further notice, following the government regulations. All Jakarta office employees follow the Work From Home (WFH) arrangements.
 Katarina added, PTAR as the operator of the Martabe Gold Mine reviews options on how to keep our workforce healthy and safe, and continues to run the Martabe Gold Mine with minimal disruption. "The Company is committed to continuously seek opportunities to work and grow together with the communities and the governments where we operate for the benefit of all stakeholders," she said.
 Martabe Gold Mine is one of the national vital objects, until now PTAR as the operator prefers not to close the mining operation, unless there is a specific instruction from the government. PTAR understands that the operations of the Martabe Gold Mine affect the livelihoods of more than 3,300 employees and to the economy of the community around the mine in Batangtoru, and in the end has continuously contributed to the economic growth in the South Tapanuli Regency and North Sumatra Province.
 "Of course, we have high hopes that this condition does not last long and we can continue to play an important role in supporting economic growth in Indonesia, especially in South Tapanuli regency and North Sumatra Province," Katarina said.
Related: Reinforcing Batangtoru Electricity Supply, Martabe Gold Mine and PLN of Padangsidimpuan
Secretary of the South Tapanuli Government, Parulian Nasution expressed his gratitude and high appreciation to PTAR who has high concern to provide assistance in the framework of prevention and control of Covid-19 in South Tapanuli. "Hopefully this assistance will be useful for the prevention of Covid 19 in Tapsel, with the hope that all this assistance will be maximized in all sub-districts and villages in Tapsel."
 "Our prayer is that PTAR continues to exist in developing the company's growth to be more productive and more participated ini developing the economic growth in South Tapanuli. Surely, PTAR's contribution and participation in the development of Tapsel will increase. We hope that PTAR will remain optimally involved in preventing the transmission of covid-19 more specifically at PTAR and also the contractors.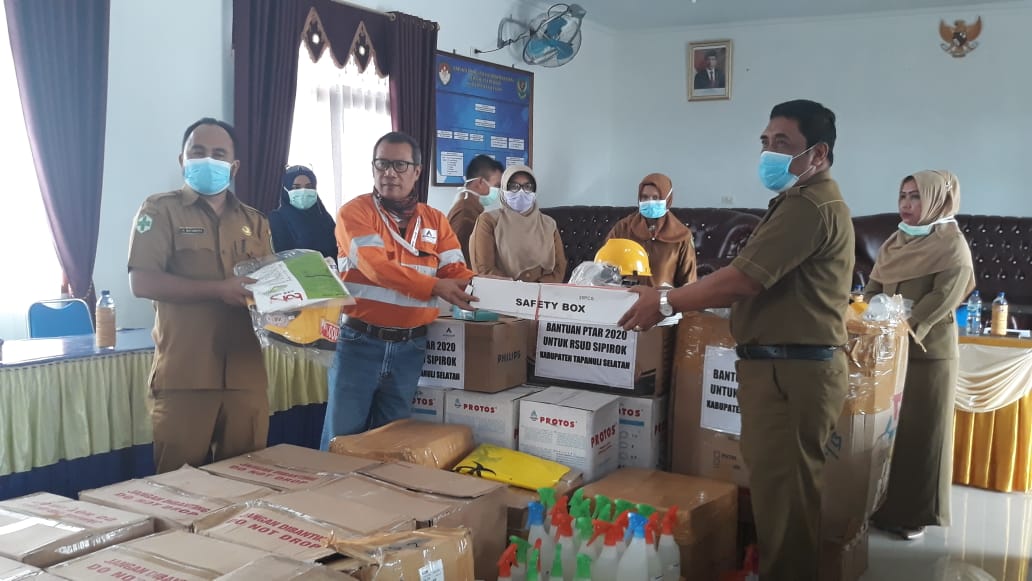 Photo: Pramana Triwahjudi, Community Senior Manager, as PTAR management representative handed over the assistance symbolically to the Tapsel Regional Secretary, Parulian Nasution accompanied by the Head of the Tapsel Regional Hospital, drg. Firdaus Batubara, at RSUD Tapsel Sipirok, Monday (6/4). The Rp. 250 million assistance was given to the Tapsel Regional Hospital in the effort to accelerate the Covid-19 Handling in South Tapanuli.