Batangtoru, 22 July 2020 – PT Agincourt Resources (PTAR), the operator of Martabe Gold Mine, supports the Government of South Tapanuli Regency to hold free rapid tests for the community in Batangtoru District by providing a total of 2,500 rapid test kits.
PTAR Senior Manager Community Relations, Pramana Triwahjudi said that Martabe Gold Mine fully supports the South Tapanuli Regency Government to carry out this rapid test activity to anticipate COVID-19 transmission in accordance with the Ministerial Decree of Health Number HK.0107/Menkes/413/2020 concerning Guidelines for COVID-19 Prevention and Control.
Related: The 7th Martabe Gold Mine Free Cataract Surgery "Open Eyes, See the Beauty of the World" Succeeds in Returning Sight to 1,123 Eyes

"At present, we all still face many challenges due to COVID-19 pandemic. One of them is the control and anticipation of transmission. By supporting the implementation of this activity, we would like to assist the South Tapanuli Regency Government through the Health Agency in conducting rapid tests for Batangtoru community for 2 days which starts today until tomorrow, 23 July 2020, "explained Pramana.
Head of South Tapanuli Health Agency, dr. Sri Khairunnisa MH explained that the implementation of free rapid tests is carried out in three locations namely Batangtoru Puskesmas, Batangtoru Market, and Sumuran Village with the target of Batangtoru community. This rapid test activity is a surveillance effort on COVID-19 transmission in South Tapanuli.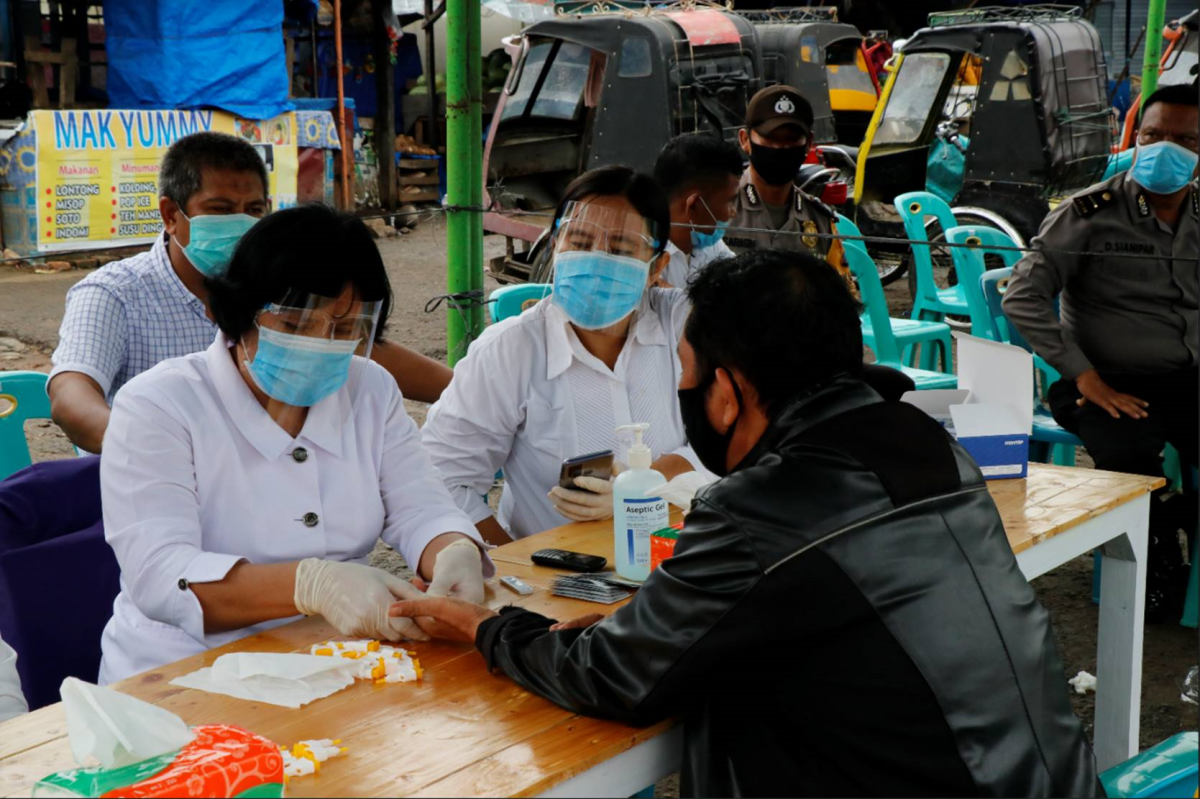 Prior to the commencement of the activity, South Tapanuli Health Agency had provided information to Forkompimca (Communication Forum for District Leaders) and all Village Heads in Batangtoru. Furthermore, the socialization and communication would also be carried out to participants before the activity began to explain what needs to be followed up after the results of the rapid tests are known. On the same occasion, the Spokesperson of South Tapanuli Regency Task Force for COVID-19 Mitigation Acceleration, Sofyan Adil Siregar, SP. MM, and Batangtoru Forkompimca was also present.
Related: Support Efforts to Accelerate Covid-19 Handling Martabe Gold Mine Support the Provision of the Main Necessities of the Isolation Room at South Tapanuli Public Hospital (RSUD) in the amount of IDR 250 Million

Rapid test is a method used as a preliminary screening to detect Corona virus in the body by testing the body's antibody levels from blood samples. If a person's body experiences a bacterial/viral attack, antibodies will actively fight. Rapid test is not a method for confirming COVID-19. There are two indicators of rapid test namely IgM (Immunoglobulin M) and IgG (Immunoglobulin G)/IgM which are temporary antibodies that appear at the beginning of infection. IgG is a permanent antibody, appearing to prevent the second foreign invasion.
"If reactive results are found, but there are no symptoms, the concerned person should stay at home and perform a self-quarantine. If you have symptoms such as fever, cough, hoarseness, and shortness of breath, please contact the nearest health facility for further examination," concluded dr. Sri Khairunnisa.