Batangtoru, 18 December 2020– In the midst of the COVID-19 pandemic, the commitment of PT Agincourt Resources (PTAR), the operator of the Martabe Gold Mine to continue to share values and grow with one of the stakeholders, namely the mass media is maintained. One of them is by holding a 2020 Video Journalism Competition with the theme "Exploring Local Wisdom Through Visuals in the Midst of the Pandemic". The announcement of the winners of the competition was made on 17 December 2020.
Preddy Situmorang, a Tapanulipost.com journalist won First Place through his work "Had Been Called Crazy, This Pedicab Driver Became a Health Protocol Warrior", 2nd Place was Deddy Zulkifli, a Kompas TV journalist with a work entitled "EO Entrepreneurs Rose from the COVID-19 Pandemic" and 3rd Place was Eko Kurniawan, a Waspada journalist, with his work "Exploring Local Wisdom on Durian Tourism".
PTAR Director External Relations, Sanny Tjan expressed her congratulations and high appreciation for all winners and participants of the 2020 Video Journalism Competition.
"I, on behalf of PTAR Management, would like to thank for the continuous support of the journalists to the operation of Martabe Gold Mine. We hope that in the coming years this good relationship can be continued. We are also always committed to contributing to increasing the competence and knowledge of journalists both at the national, provincial, and local level," said Sanny.
PTAR Senior Manager Corporate Communications, Katarina Siburian Hardono said that the 2020 Video Journalism Competition was part of a series of routine annual Media Capacity Building programs. This year, the Media Capacity Building carries the theme of Mobile Journalism: Considering the Future of Journalism in the Digital Revolution, From Journalists to News Business.
"We really appreciate all journalists who have participated in submitting their best works in the 2020 Video Journalism Competition. Various forms of local wisdom such as culture, culinary tours to inspirational stories from the area are picked up through video competitions, hopefully, they can continue to increase our enthusiasm to get through this COVID-19 pandemic. Once again congratulations to all winners, and keep up the great work, "said Katarina.
Furthermore, Katarina explained that at this year's Media Capacity Building, the Martabe Gold Mine wishes to support the increase in journalistic capacity and competence of the journalists in the current era of digitalization through the use of gadgets that are used daily to support work, namely smartphones. Not only that, the 2020 Video Journalism Competition was also held as a forum for journalists to work after receiving training.
The Martabe Gold Mine has organized a Media Capacity Building program since 2013 and a Journalistic Work Competition since 2017.
One of the judges who is also a content creator, Andrian Dito said that the three winners have their own characteristics in their work. Eko Kurniawan's video, for example, dared to experiment with cinemascope, featured a host, and used today's vlogging and editing styles. This video can technically show that journalistic works can also be explored without losing the essence of the news.
Meanwhile, for the video made by Dedy Zulkifli, Andrian explained, it has fulfilled all aspects of journalism, including composition, angle, and information.
"For Preddy Situmorang's video, it is very unique with a touch of humanism that elevates local heroes, namely a pedicab driver who applied health protocols until he received an award. There is drama, an interesting story plot, but still full of journalistic values. Congratulations to all winners," said Andrian.
Preddy Situmorang expressed his gratitude for his victory in the 2020 Video Journalism Competition. According to him, the Media Capacity Building program and journalism competitions that are routinely organized by the Martabe Gold Mine really motivate journalists to continue to improve their competence.
"Not only that, but the Martabe Gold Mine also supports the implementation of the Journalist Competency Test, especially for local journalists. Thank you because these various programs are very helpful for us," Preddy concluded.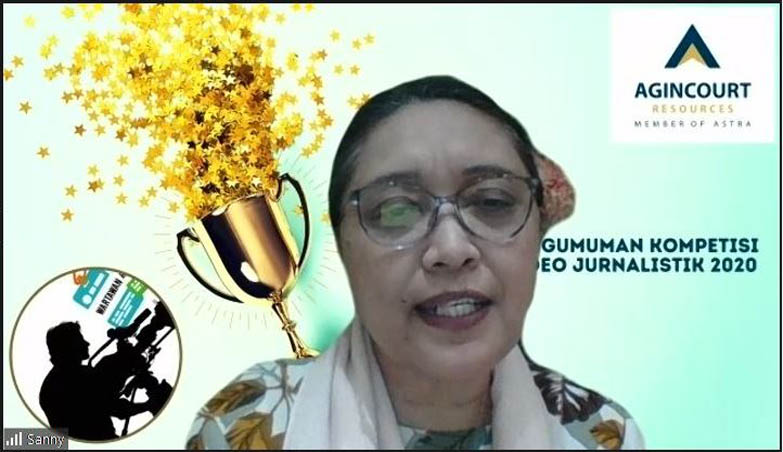 PTAR Director External Relations, Sanny Tjan