Awards Receiving Ceremony 
Batangtoru, 6 October 2021 – PT Agincourt Resources (PTAR), operator of the Martabe Gold Mine, facilitated capacity building for agricultural counselling workers in South Tapanuli through professional certification for 30 Field Agricultural Counselling Officers on 5 to 7 October 2021. 
This certification is part of PTAR's commitment to improve the quality of agriculture practice, increase productivity, and support South Tapanuli economic development. 
Professional certification for Field Agricultural Counselling Officers is made possible by the good cooperation between PTAR, the South Tapanuli Agricultural Agency, Jambi Agricultural Training Center, and the National Professional Certification Agency. In attendance were nine Counselling Officers from the Agricultural Counselling Center of Batangtoru, six Counselling Officers from the Agricultural Counselling Center of Muara Batangtoru, and 15 Counselling Officers from the Agricultural Counselling Center of other sub-districts in South Tapanuli. 
PTAR General Manager Operations Rahmat Lubis said the company will continue to be committed to supporting the development of the agricultural sector in South Tapanuli, especially to increase productivity and the amount of agricultural land area: 
More than 70% of the people in Batangtoru sub-district work as farmers with Batangtoru sub-district one of the agricultural centers in South Tapanuli for rice growing. To contribute positively to the welfare of the community, PTAR is ready to engage in strategic cooperation with the government and with other partners. We thank the South Tapanuli District Government for supporting this certification program. 
PTAR Senior Manager Community Christine Pepah addressed building and developing the agricultural sector in South Tapanuli: 
The agricultural sector is growing rapidly and dynamically. Therefore, certified Field Agricultural Counselling Officers are needed to assist farmers. They will later become a place of consultation for farmers, planters, breeders, and freshwater fisheries. Through the assistance from Field Agricultural Counselling Officers, especially related to education and with the adoption of appropriate technology, it is hoped that agricultural production in South Tapanuli will continue to increase, increase productivity, increase income, and benefit the welfare of the farmers and their families. 
Other PTAR Agricultural Assistance 
Meanwhile, agriculture and local economic development is included as the two main focuses of the PTAR community development and empowerment programs. Farmer success in cultivating food needs to be continuously supported to ensure quality and quantity meet needs. Moving South Tapanuli agriculture in a better direction supports both farming groups and communities.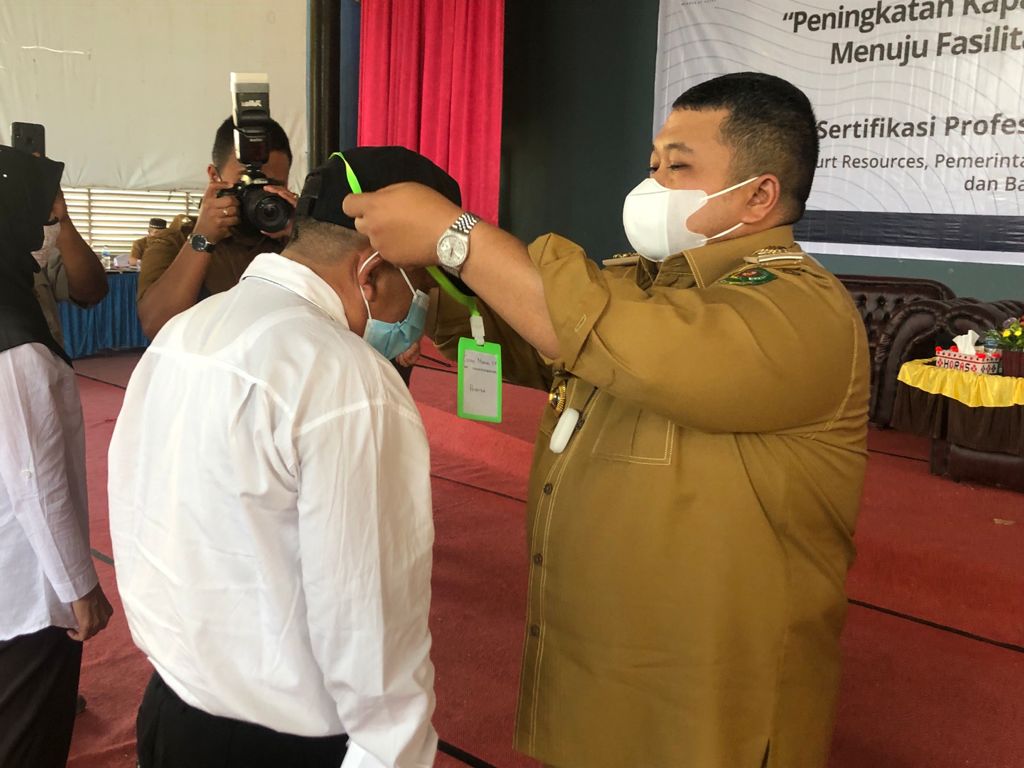 Graduate of the Agricultural Professional Course Receives Recognition.
Until now, based on the results of PTAR assistance, the area of ​​agricultural cultivation in Batangtoru and Muara Batangtoru sub-districts has reached around 150 hectares, consisting of 2 hectares of organic farming cultivation, 10 hectares of captive rice cultivation, 100 hectares of conventional rice cultivation, 3 hectares of rhizome roots plant cultivation and 35 hectares of shelled corn cultivation.
The PTAR Community Development and Empowerment Master Plan includes the pillars of Real Income Level and Economic Independence, in accordance with:
Law No. 16 of 2006 on Agricultural Counselling System, Fisheries, and Forestry
Minister of Agriculture Regulation No.45/Permentan/OT.140/4/2013 on Guidelines for the Implementation of Agricultural Counselling Professional Certification
Decision of the Minister of Manpower and Transmigration No. 43 of 2013 on the Indonesian National Work Competency Standards (SKKNI) in the field of Agricultural Counselling
Over the years, PTAR has followed this policy to conduct various programs in integrated livestock development for village youth groups, cultivation of rhizome root crops and sales by community groups in two villages, development of fish farming capacity, production of certified and superior rice seeds, organic rice, shelled corn, agricultural infrastructure such as access roads and repair of irrigation canals, and cultivation of fruit plants in pots.
South Tapanuli District Head H. Dolly P. Pasaribu expressed his appreciation and gratitude to PTAR for this current initiative and commitment to working with the South Tapanuli District Government to improve the quality of the agricultural sector:
We will oversee and continue to support this training and certification. Agriculture is one of the spearheads in South Tapanuli, moreover the production so far is quite good. We hope that this training and certification can optimize resources, utilize technology so as to optimize the role of farmers and counselling workers in achieving food self-sufficiency in South Tapanuli, and also in encouraging the increase of millennial farmers who are advanced, modern, professional and have an entrepreneurial spirit.