Participants of the fauna inspection training take a group photo after the practice in the field.
Batangtoru, 23 December 2021 — PT Agincourt Resources (PTAR), operator of the Martabe Gold Mine, held a fauna inspection training to identify and ensure the presence of target fauna and protected fauna on land to be cleared for mining operations. PTAR allocated resources for environmental management and monitoring in 2021 amounting to USD9,182,494.
The training activity was attended by dozens of PTAR employees and was held at the Martabe Gold Mine location for two days on 14 to 15 December 2021. Ecologist from the University of North Sumatra (USU), Onrizal, S.Hut, M.Si, PhD. acted as lead facilitator. Onrizal presented material on how to identify and ensure that at-risk animals are not disturbed or even made extinct during the land clearing operations. If a target species is observed or found in a pre-clearing inspection, then clearing within that area must be stopped until the animal is safe.
PTAR General Manager Operations Rahmat Lubis stated that this fauna inspection training activity is very important in sustainable mining activities:
This is an effort to preserve and protect the presence of fauna, especially protected fauna species. PTAR allocated USD 6.45 million for environmental management and monitoring in 2020, and in 2021 USD 9.2 million was allocated. These resources are allocated to ensure that environmental management at the Martabe Gold Mine location meets the quality standards and applicable regulations. In the long-term, PTAR continues to coordinate and collaborate with other stakeholders in North Sumatra and South Tapanuli, especially in Batangtoru, including local governments and authorities to identify the best conservation programs, and actively help establish and conserve tropical rainforests for the sake of sustaining flora and fauna habitats in the forests.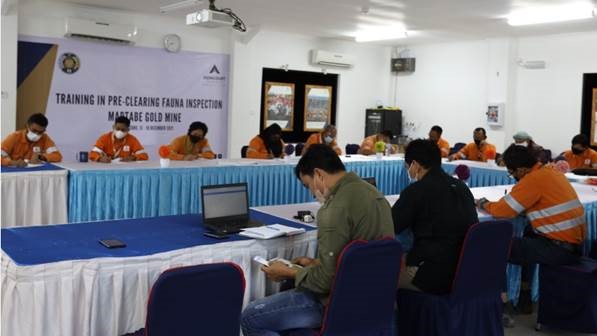 Participants of Fauna Inspection Training are attending training.
Professor Onrizal stated that one of the important things for wildlife management is how we can properly identify the species concerned:
This training will provide good knowledge for the colleagues at the Martabe Gold Mine to be more skilled and reliable in identifying fauna species, so that the management of biodiversity in Martabe can be even better. Biodiversity is of great value and its management is a shared responsibility. This training indicates PTAR has a strong commitment and in line with my competence and expertise, I will support PTAR in managing biodiversity.
Supriadi, an employee and training participant from the Exploration Department, said he was very enthusiastic about participating in this training:
I am very grateful as PTAR is very aware of flora and fauna. This training opens our horizons when exploring in the field to protect flora and fauna, by recording and reporting as taught in this training.
PTAR Senior Manager for Corporate Communications Katarina Siburian Hardono added that the main targets of PTAR's policy related to the protection of biodiversity are the ecosystems that are both in and close to the working areas of the Martabe Gold Mine:
Even if PTAR's work area is outside a protected area, it is close enough to that area of high biodiversity. PTAR ultimately recognizes that the operations have the potential to affect the survival of the fauna and flora in the vicinity. Therefore, PTAR is committed to minimizing the impact of its operations by making efforts to prevent, minimize and mitigate risks to biodiversity throughout the company's business cycle, take responsibility for land use and plan and modify design, construction and operating practices to protect certain endemic or protected fauna and flora species.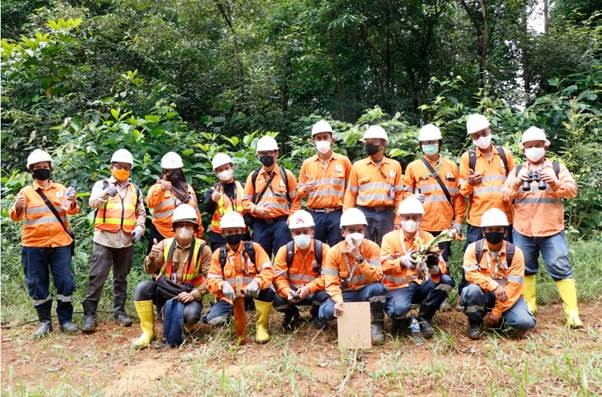 The participants of the fauna inspection training take a group photo after the practice in the field