An employee of PTAR is having a blood pressure check before receiving a booster vaccine. 
Batangtoru, 12 February 2022 — PT Agincourt Resources (PTAR), operator of Martabe Gold Mine, cooperated with the Government of South Tapanuli District through the Health Agency of South Tapanuli and the District Police Command of South Tapanuli to hold further or booster vaccine administration for PTAR's employees and work partners. The first batch of Booster Vaccination Program with the vaccine type of Pfizer was held five times in the last week of January 2022 and the first week of February 2022 at Martabe Gold Mine, South Tapanuli District, North Sumatra. From the booster vaccination program, it was recorded that the vaccine was successfully administered to 704 employees consisting of 400 employees of PTAR and 304 employees of contractors. 
PTAR's General Manager Operations Rahmat Lubis explained that the booster vaccine recipients at Martabe Gold Mine are employees of PTAR and work partners who have received complete vaccines of doses 1 and 2, and the gap between the second vaccine and the booster is at least 6 months: 
The target who will receive this booster vaccine is 2,955 people in total. This number consists of 919 employees of PTAR who have completely received primary vaccines and 2,036 employees of contractors.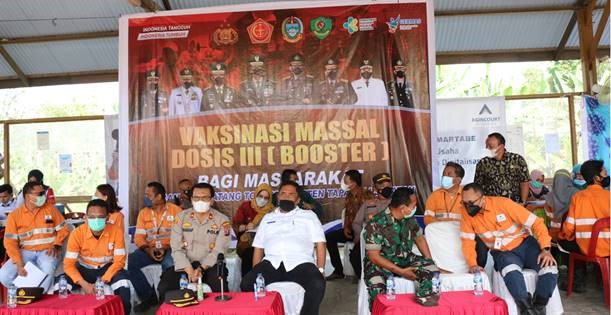 Booster Vaccination at Martabe Gold Mine witnessed by the Regional Consultative Council of South Tapanuli District. 
Rahmat added, the vaccination program provides protection against Covid-19 and is proven to reduce the risk of severity level if infected by Covid-19 from several cases afflicting PTAR's employees. He revealed that PTAR will also hold booster Mutual Cooperation Vaccination Program cooperating with Kimia Farma Medan using the Sinopharm Vaccine. The delivery of 2,000 vials of vaccine for 4,000 participants from Biofarma Bandung arrived at Kimia Farma Medan on 11 February 2022: 
The implementation of the booster VGR program will be carried out gradually at Martabe site to employees and families of PTAR and also Work Partners in this month also. 
Meanwhile PTAR's Senior Manager EHS Hari Ananto explained that so far it was recorded that 1,417 employees of PTAR and contractors and also 258 employees' families of PTAR and contractors received primary vaccines of Sinovac, Pfizer, Astrazaneca and Moderna types. While the recipients of Gotong Royong Vaccine were 1,538 employees of PTAR and contractors, and 1,147 employees' families of PTAR and contractors. 
Hari said the implementation of the second batch of booster vaccination using Gotong Royong (VGR) Vaccine of Sinopharm will be held on 23 & 24 February 2022 with the target of 717 people. Meanwhile, the third batch of booster vaccination (VGR) is planned to be held on 13-15 March 2022 with the target of 911 people using Sinopharm vaccine. 
Separately, PTAR's Senior Manager Corporate Communications Katarina Siburian Hardono stated this booster vaccination program is intended to achieve the herd immunity target at Martabe Gold Mine and reduce the spread of Omicron virus whose cases are currently rising, to provide comforts and peace of mind to work for all employees of PTAR and contractors. Amidst the Covid-19 pandemic era, according to Katarina, Martabe Gold Mine still commits to giving efforts in health and safety of the employees and maintaining gold production that is safe and beneficial for all stakeholders. The Company continuously carries out socialization both to employees and community around the mine site to maintain health of themselves and family and comply with health protocol from the local government and task force of Covid-19.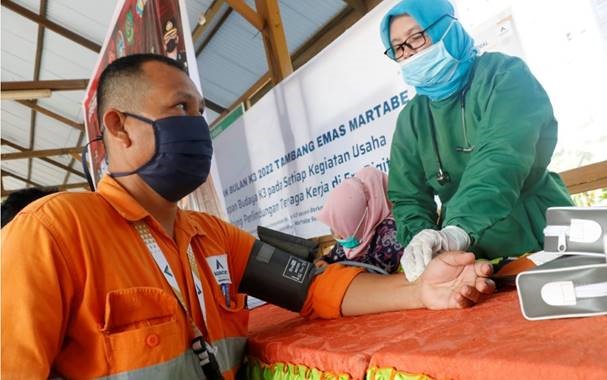 An employee of PTAR is having a blood pressure check before receiving a booster vaccine