South Tapanuli District Head Dolly Pasaribu hits a gong to inaugurate 2022 Environment Day, accompanied by PTAR General Manager Operations Rahmat Lubis, PTAR management, District Government officials, and students at High School 2 Batangtoru, Monday June 6, 2022. 
Batangtoru, 6 June 2022 – PT Agincourt Resources (PTAR), operator of the Martabe Gold Mine, affirmed its commitment to continue to preserve the environment. On this day, there was a planting of 200 tree seedlings with the local government, community leaders, and the surrounding community. The tree planting activity was accompanied by the delivery of 1,200 tree seedlings to communities around the mine in Batangtoru and Muara Batangtoru. 
The action was carried out in commemoration of World Environment Day of 2022 with the theme "Only One Earth", as declared by the United Nations Environment Program. This theme is an appeal to preserve the earth for a shared future while highlighting the need for sustainable living in harmony with nature and towards a cleaner and greener lifestyle to preserve nature. The Indonesia Ministry of Environment and Forestry has decided to use the theme "One Earth for the Future" in recognition of the sustainability component. 
PTAR General Manager of Operations Rahmat Lubis said that nature conservation is a both a recognition of the pressures of change and negative impacts and of those efforts needed to protect the environment against these pressures. It is our collective responsibility to support the lives of living things and to date, PTAR has planted more than 41,000 tree seedlings with the PTAR Nursery facility containing more than 5,000 local plant seedlings. Rahmat continues: 
PTAR is committed to managing the environment and biodiversity in accordance with good mining principles and in accordance with the regulations in force in the Republic of Indonesia. We also collaborate with several leading universities in the fields of education, science, research, and biodiversity conservation. 
Networking for the Eco-system 
The universities that currently form the core of PTAR coopration include the IPB University, National University, North Sumatra University, Muhammadiyah University of South Tapanuli, and Aufa Royhan University in Padangsidimpuan. 
In collaboration with these universities, activities are held, including doing surveys of the composition and diversity of flora and fauna at the planned location of the Martabe Gold Mine developments and a pre-land-clearing fauna inspection training was held with forestry experts from the North Sumatra University Faculty of Forestry. 
District Head of South Tapanuli Dolly Pasaribu emphasized that Environment Day is not a mere ceremony, but a reminder for all of us to be responsible for preserving the environment. He noted the aim to create a sustainable environment in South Tapanuli and the community actions to achieve this: 
We appreciate PTAR's commitment as a mining company that shows its commitment to preserving the environment. 
Involving Young People 
The hope is that the tree seedlings donated by PTAR to High School 2 Batangtoru can grow into shade trees for the young scholars, to enrich their experience and promote biodiversity in Batangtoru and its surroundings. 
Other activities included a Coloring and Drawing Competition for 3-5-year-olds and 6-10-year-olds, Environmental Essay Writing Competition for SMA/SMK levels in South Tapanuli District, and PTAR Goes to School for environmental management education for elementary, junior high, and high school/ vocational school students in Batangtoru. A number of activities for PTAR employees and partners were the Environmental Quiz Contest, Environmental Creative Video Competition, Biodiversity Fun Run, and Environmental Innovation Competition.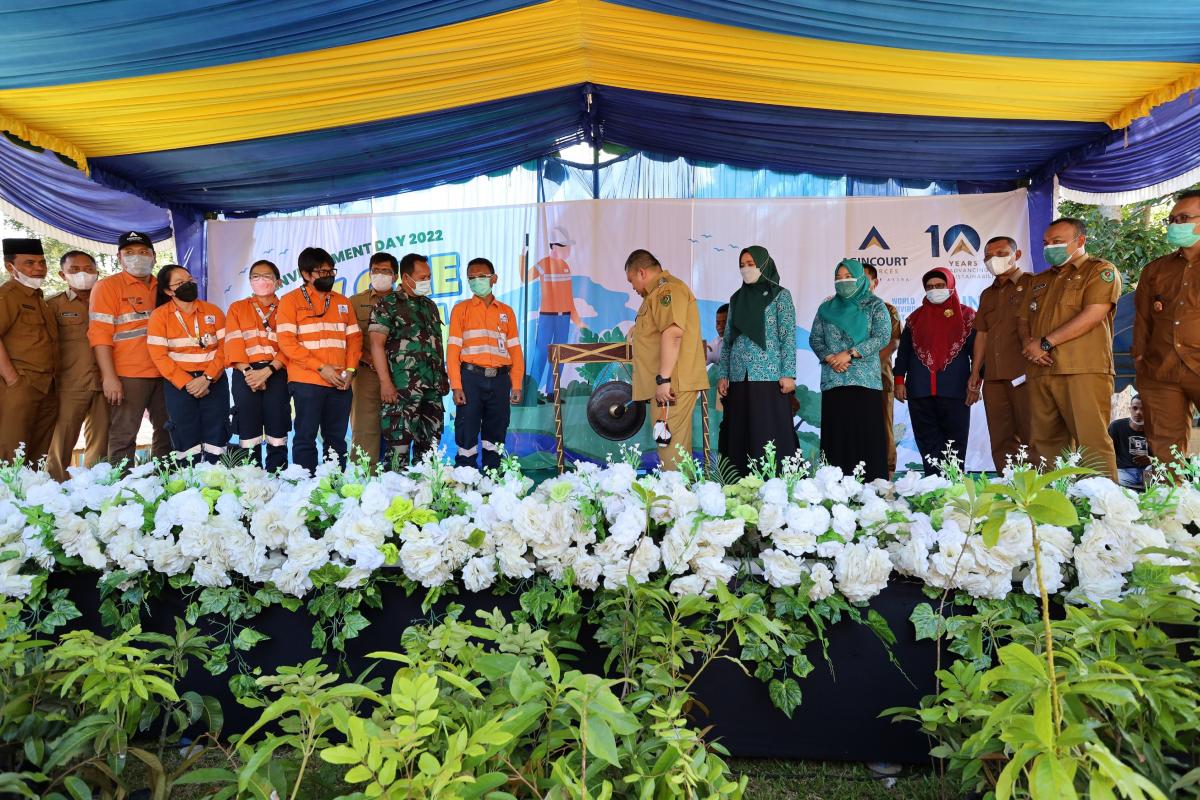 Photo 1: South Tapanuli District Head Dolly Pasaribu is hitting a gong to mark the inauguration of the 2022 Environment Day, accompanied by PTAR General Manager Operations Rahmat Lubis, PTAR management, District Government officials, and TP PKK, at SMKN 2 Batangtoru, Monday (6/6).