Agincourt Resources held a Seminar Towards a Green PROPER for the Future of the Earth on 29 June 2022 in Medan, North Sumatra.
BATANGTORU, 1 July 2022 – PT Agincourt Resources (PTAR), the operator of the Martabe Gold Mine, is aiming for a GREEN rating for the PROPER assessment. Martabe Mine is steadily improving all aspects of mine management including the quality of environmental and biodiversity management. Achieving the GREEN standards in excess of regulation is an organization goal.
On-going efforts are being made by PTAR to increase the PROPER achievement from BLUE to GREEN, including new controls on air and water pollution, managing hazardous and toxic waste (B3), anticipatory action against damage to mining areas, waste management, B3 material management, non-B3 waste management, and reducing greenhouse gas emissions.
Wira Dharma Putra, PTAR Deputy General Manager of Operations, said PTAR is ready to support the government's program to reduce 29% of greenhouse gas (GHG) emissions with its capabilities and 41% of GHG emissions with international support by 2030. PTAR will also carry out its commitment to support the government's efforts toward net zero-emissions and comply with government regulations related to energy efficiency and GHG emission reduction.
The goal of PTAR going forward is to receive a GREEN PROPER and we hope to achieve this by increasing the focus on biodiversity conservation and energy projects, and also reducing greenhouse gas emissions.
Environment Day
Most recently, PTAR celebrated Environment Day with a seminar on the theme Energy Efficiency Strategy and Reducing Greenhouse Gas Emissions, 27 June 2022. This online event included a Seminar Towards a Green PROPER for the Earth's Future on 29 June 2022, hosted in Medan. These two seminar themes are in line with the commitment and spirit of sustainable development, a basic principle of PTAR in carrying out its operations. The seminar was also attended by the Environmental Agency of North Sumatra, Energy and Mineral Resources Agency of North Sumatra, Environmental Agency of South Tapanuli, and a number of mining companies.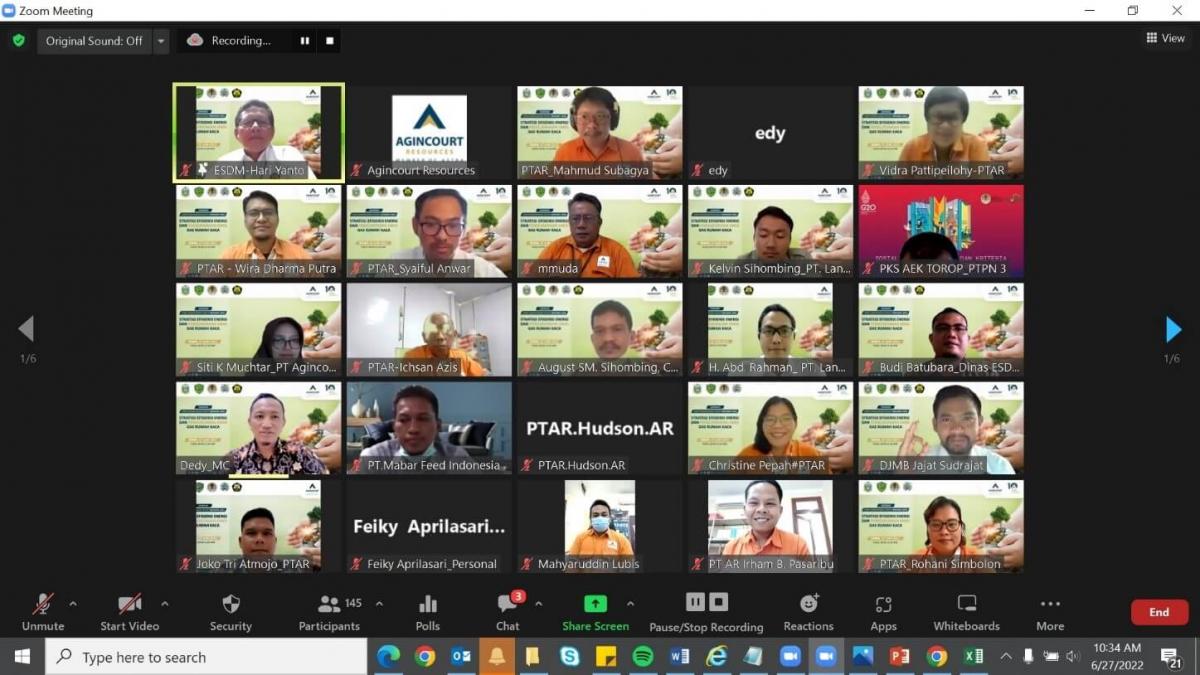 Agincourt Resources held an online seminar Strategy for Energy Efficiency and Reducing Greenhouse Gas Emissions on 27 June 2022 attended by around 145 participants from PTAR, local governments, and other mining companies.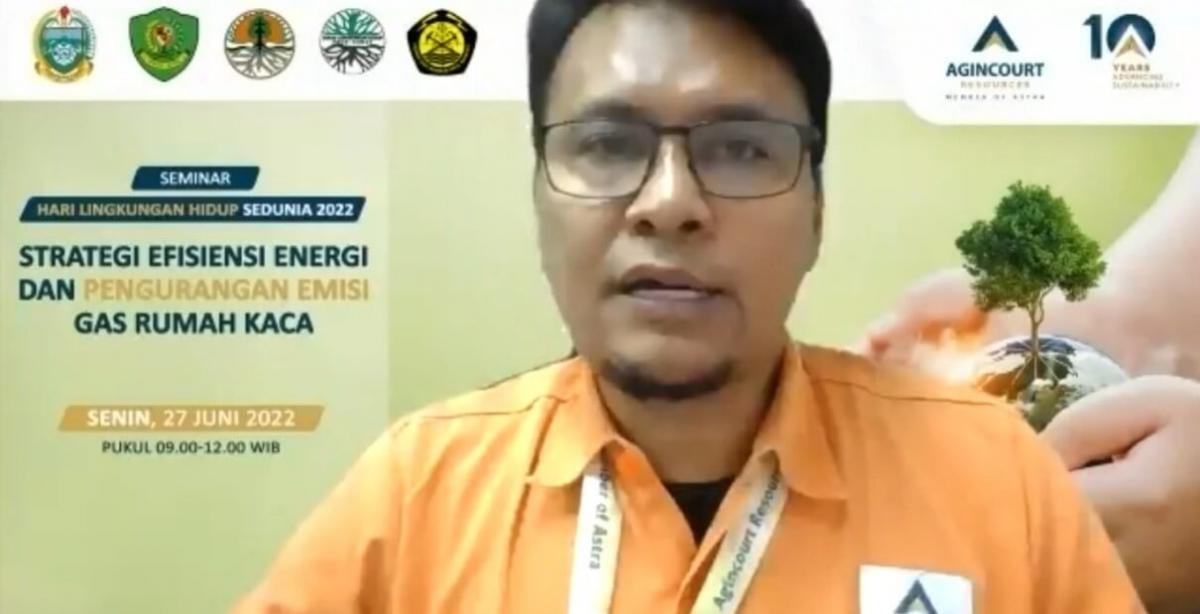 Deputy General Manager Operations of PT Agincourt Resources Wira Dharma Putra opens the Seminar "Energy Efficiency Strategy and Reducing Greenhouse Gas Emissions" on 27 June 2022.
Biodiversity and Environment at Martabe Mine
In managing the environment and biodiversity, PTAR at least follows and implements all aspects of Good Mining Practice in accordance with all applicable regulations. But further, PTAR also collaborates in the fields of education, science, research, and biodiversity conservation to go beyond the regulations. In conjuction with several universities including IPB University, National University Jakarta, North Sumatra University, the South Tapanuli Muhammadiyah University and Aufa Royhan University in Padang Sidempuan, activities have been carried out that include surveying the composition and diversity of flora and fauna in Batangtoru and also Pre-Land Clearing Fauna Inspection training with forestry experts from the Faculty of Forestry of USU.
Regularly, Marbabe's Integrated Team together with the Department of Environment monitors the quality of the treated water by taking water samples from the Batangtoru River. Fulfilment of treated water quality standards from the Martabe Gold Mine is based on quality standards of:
Minister of the Environment Decision No. 202/2004 on Wastewater Quality Standards for Gold and/or Copper Ore Mining Business
Minister of Environment and Forestry Regulation No. P.68/MENLHK/Setjen/Kum.1/8/2016 on Domestic Wastewater Quality Standards
Head of North Sumatra Environmental Agency Tengku Dianingrum said that PROPER is needed to reinforce commitment to manage business in order to achieve a sustainable environment.
Environmental restoration is aimed at preserving the environment. This is is our collective work. We must develop a mindset, a mindset to contribute to realizing net zero emissions.
The Department of Energy and Mineral Resources of North Sumatra expressed a positive appreciation for PTAR. Budi Batubara, Head of the Mineral and Coal Division of the EMR Agency of North Sumatra, said PTAR is the only gold mining business producing in North Sumatra and has made a significant contribution, contributed 96% of the total non-tax state revenue for mining in North Sumatra at IDR 434 billion:
We hope PTAR and other companies perform efficiency in the scope of the company's environment and conserve energy.
Stakeholder Engagement
PTAR has received a number of awards and certificates for its initiatives in managing the environment, one of which is the Indonesian Sustainable Business Award for the Land Use and Biodiversity Category from Global Initiatives and PwC Singapore and Indonesia. PTAR also won the Utama Award (Silver) in the Mineral Mining Environmental Management Category, CoW category, from the Directorate General of Mineral and Coal, Ministry of Energy and Mineral Resources.
Specifically for students, PTAR held Goes to School at SD 100707 Batangtoru, SMPN 1 Batangtoru, and SMAN 1 Batangtoru from 20-22 June 2022. In these three schools, PTAR disseminated materials on environmental management in the mining sector and the role of students in protecting the surrounding environment. PTAR has organized an E-Coaching Jam (ECJ) for students from various universities. Since 2014 until now, ECJ has succeeded in bridging the discussions of more than 45 mining experts and more than 3,500 students in Indonesia. In addition, PTAR shares knowledge on environmental management efforts through the easy-to-do biopore method.
Hari Ananto, PTAR's Senior Manager for Environment, Health & Safety, said that the celebration of World Environment Day is a meaningful moment, a reminder for all of us to preserve the earth for a shared future:
Let us raise awareness of caring for the preservation of the earth from now on by not destroying it and always taking care of it like we take care of our own home.
New Forests
PTAR has an integrated nursery to assist the Reclamation Program in the final land area by providing seedlings of native Batangtoru tree species and other plants.
We ensure that every tree we plant will grow or we replant. This regular care is assessed by a team from the Ministry of Energy and Mineral Resources and the success rate of reclamation plant growth and the overall condition of the area is determined all in order to show that our company's reclamation-revegetation activities are carried out properly and correctly.
To date, PTAR has planted more than 41,000 tree seedlings, while the number of local plant seeds prepared at the nursery is more than 5,000 seedlings.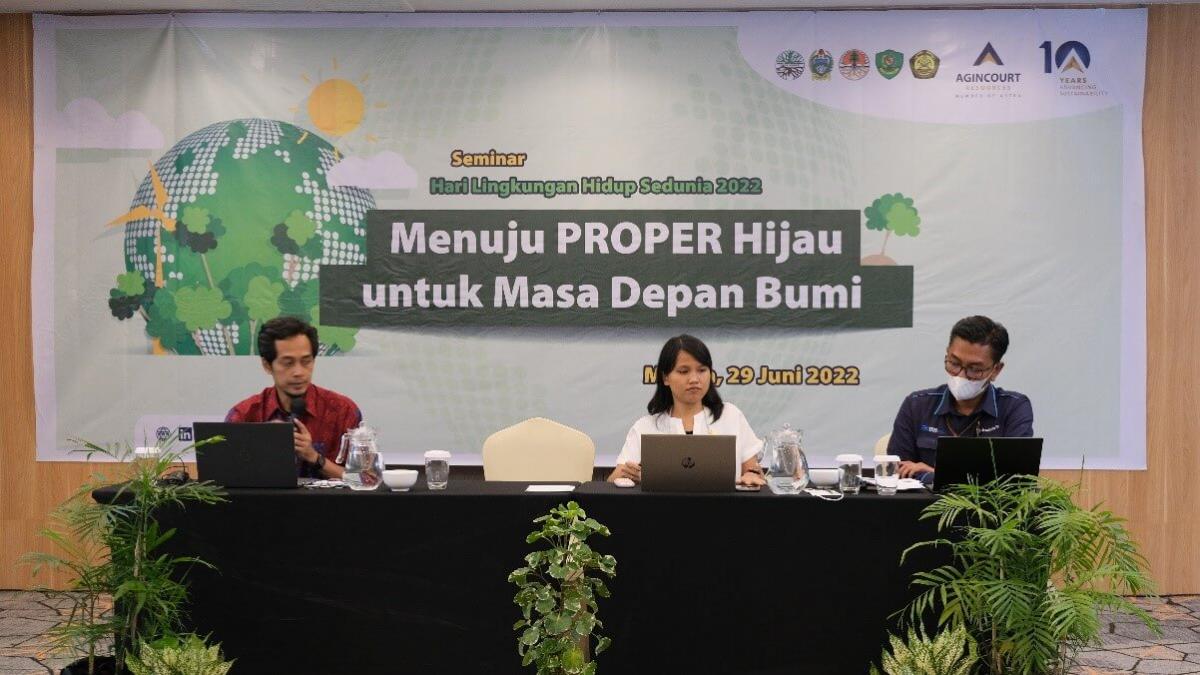 Photo 3: PT Agincourt Resources held a Seminar "Towards a Green PROPER for the Future of the Earth" on 29 June 2022 in Medan, North Sumatra. Doc: PTAR.