Sipirok, 9 August 2022 – To encourage the tourism sector in South Tapanuli, North Sumatra, PT Agincourt Resources (PTAR) added facilities at Menara Pandang Sipirok (Sipirok Viewing Tower) in the form of corridor/passageway buildings, guard posts, public toilets, and parking lots worth a total of IDR 1.65 billion.
PTAR General Manager Operations, Rahmat Lubis, said PTAR had had a discussion with South Tapanuli Regency Government and then decided to construct additional supporting facilities at Menara Pandang Sipirok.
"We are aware that we are an inseparable part of South Tapanuli and we are very happy to make a positive contribution in this area," said Rahmat.
Menara Pandang at Sipirok Botanical Garden began to be constructed by PTAR in 2020 and had been handed over to South Tapanuli Regency Government on 1 February 2021. The total budget spent by PTAR to build the 31.5 meter high and 583 square meter Menara Pandang amounted to more than IDR 13 billion.
Rahmat hoped that there would be an increase in the visits to Sipirok Botanical Garden, especially the Menara Pandang Sipirok which has become an icon in South Tapanuli, after the construction of additional facilities. The maintenance of these additional facilities is trusted entirely to the local government so that they can be used as optimal as possible.
South Tapanuli Regional Secretary, Parulian Nasution, said the additional assistance for Menara Pandang Sipirok building facilities from PTAR is part of the overall commitment between the Regency Government and PTAR to continue to improve services in the tourism sector, especially in Sipirok Botanical Garden area.
PTAR, the operator of Martabe Gold Mine, has also shown its contribution in the health sector through the construction of borewell at Sipirok General Hospital and the assistance of fire-fighting equipment for South Tapanuli Fire Department. All of them have been handed over by PTAR to South Tapanuli Regency Government at Menara Pandang Sipirok on 9 August 2022.
"On behalf of South Tapanuli Regency Government, I would like to express my highest appreciation and gratitude to PTAR which has made a contribution by allocating CSR funds for this construction," said Parulian.
Contribution to Health and Safety Sectors
In the health sector, PTAR has bored a well at Sipirok Hospital (RSUD) worth IDR 175 million, including piping to several holding tanks in Sipirok Hospital. The water capacity of the borewell with water pump is about 1.5 liters per second or 129,600 liters per day.
PTAR Community Senior Manager, Christine Pepah, said PTAR contributes to the service of clean water needs at RSUD, in accordance with the request of South Tapanuli Regency Government, for the operational needs of Sipirok Hospital.
"We hope that the construction of borewell can fulfil the water needs of Sipirok Hospital so that there will be no shortage, especially during the dry season," he said.
In 2022 PTAR will continue the Capacity Building Program through a series of Fire Fighting Competency Training for South Tapanuli Firefighters totaling 42 people. Most recently, PTAR helped provide fire-fighting equipment worth IDR128 million.
The equipment includes 10 units of fire proximity suits, 10 units of fire helmets and fire safety shoes, and 10 units of fiber pulaski axes as well as other supporting equipment such as 3 units of Y Place Connector (Y Connector 2.5 to Connector 1.5 ), 2 units of 1.5 inch Fire Nozzles, and 1 unit of SCBA tube (Cylinder, Backpack and Vision Mask).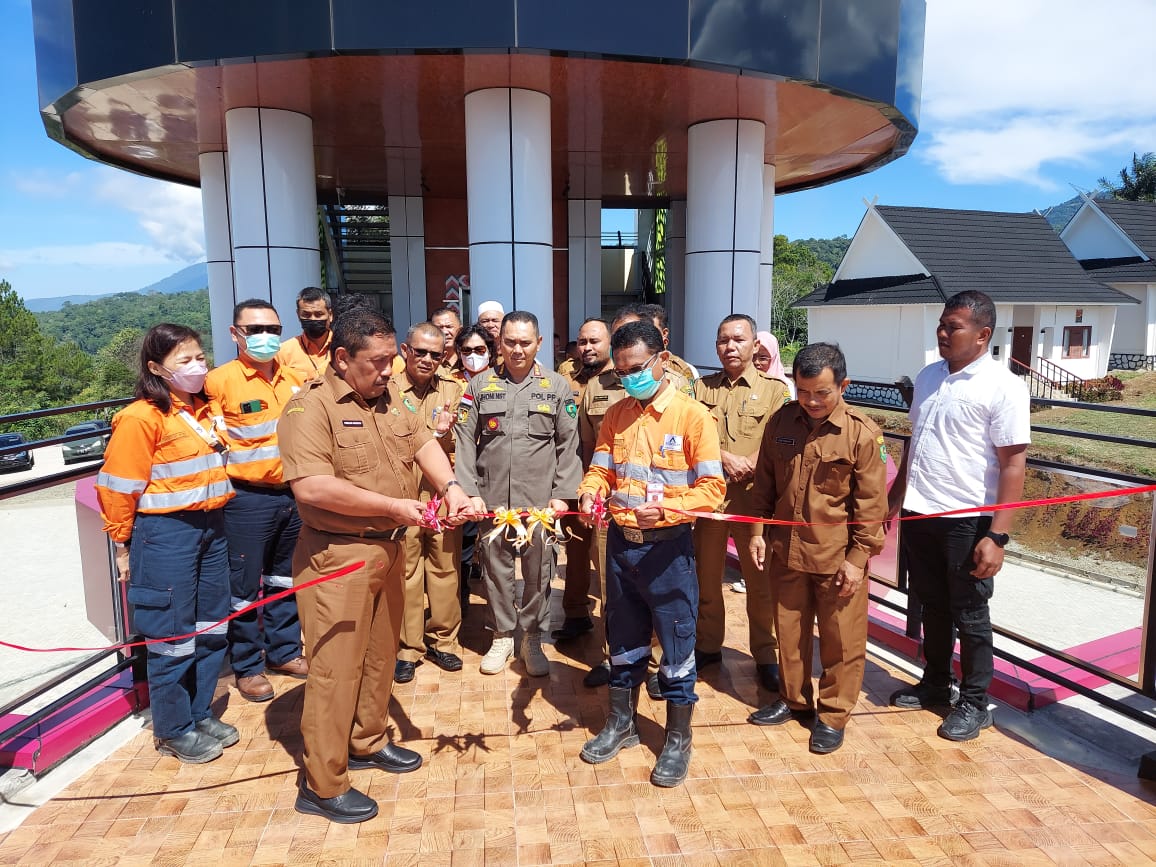 General Manager Operations of PT Agincourt Resources (PTAR) Rahmat Lubis with South Tapanuli Regional Secretary Parulian Nasution cut a ribbon as a symbol of handing over additional facilities for the Viewing Tower from PTAR to South Tapanuli Regency Government, Tuesday, 9 August 2022. (Doc: PTAR)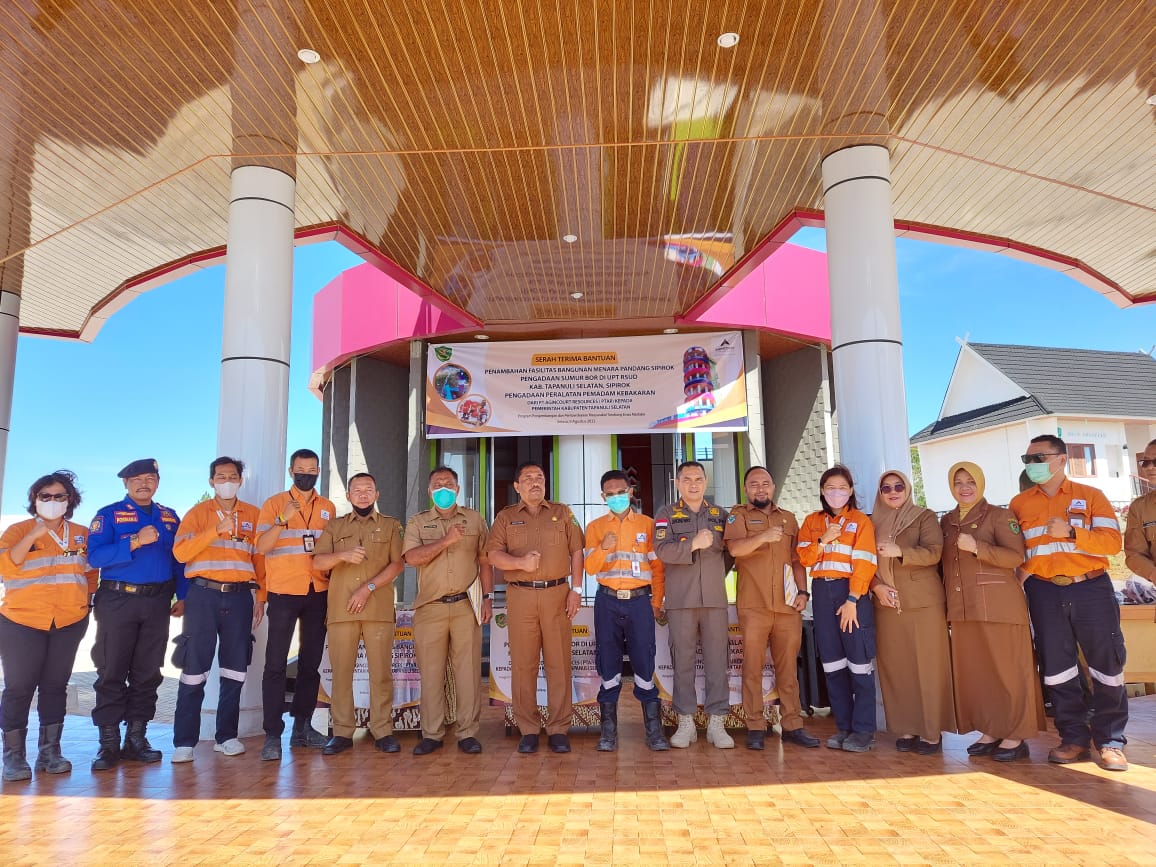 The handover of assistance from PT Agincourt Resources to South Tapanuli Regency Government was carried out at Sipirok Viewing Tower, South Tapanuli, North Sumatra, on 9 August 2022. The assistance was in the form of additional building facilities for Sipirok  Tower, construction of borewell at UPT Sipirok Hospital, and provision of fire-fighting equipment for South Tapanuli Fire Department. (Doc: PTAR)