Environmental Collaboration Between PTAR Management and Environmental Activists. 
Batangtoru, September 22, 2022 – In order to transmit the spirit of sustainability, PT Agincourt Resources (PTAR), operator of Martabe Gold Mine, held the 2022 Martabe Innovation Awards (MIA), with the theme Sustainable Environmental Preservation Initiatives. 
This Roundtable Gathering and Awards Ceremony was attended by dozens of creative young participants from Padangsidimpuan, South Tapanuli, Central Tapanuli, and Sibolga. 
This get together with stakeholders is directly in line with Astra's 2030 sustainability commitment, Sustainability Aspirations and reflects PTARs and the community's spirit of sustainability. Agincourt Resources was proud to begin this journey in implementing a fundamental, structured, and collaborative environmental program and to give MIA recognition to the best successes. 
In this inaugural event from 16 June 2022 to 17 August 2022, there were three innovation categories and, based on a scoring system, stand-out awards given in two of these categories: 
Green Lifestyle Socialization and Education 
Innovation in Reducing & Recycling Processed Waste 
The Environmental Care and Biodiversity Movement 
Innovation Category of Reducing and Recycling Processed Waste: 
First Winner: Sartika Nasution – Waste Bank 
Second Place: Nazamuddin Siregar – Waste Workshop 
Third Winner: Damai O Mendrofa – Recycling Waste into a Variety of Handicraft Products 
Runner-up I: Angelia Utari Harahap – Innovation in Mitigating Methane Gas through Alternative Feed of Jackfruit Leaves and Moringa Leaves for Ruminants. 
Category of Environmental Care and Biodiversity Movement 
Best Placing: Irwan Effendi – Let's Maintain the Balance of Nature Together 
Runner-up: Hendrawan Hasibuan – Encouraging the State to Be Present to Make the Community a Cadre of Nature Conservation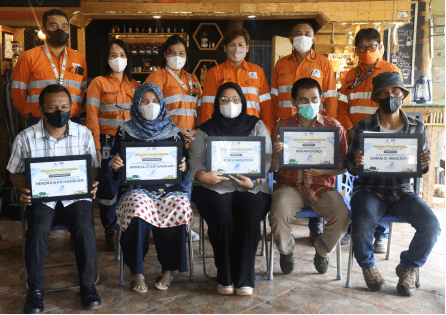 PT Agincourt Resources (PTAR) Corporate Communications Senior Manager Katarian Siburian Hardono (above, third from right) and PTAR Environment, Health & Safety Senior Manager Hari Ananto (above, second from right), and a number of PTAR management posed for a group photo with environmental activists who won the 2022 Martabe Innovation Award (Doc: PTAR)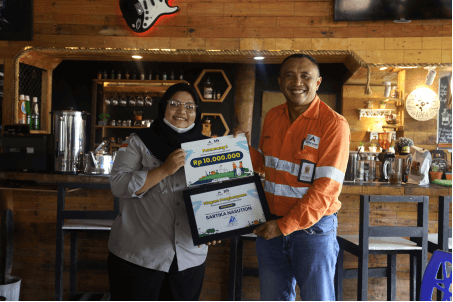 Hari Ananto, Senior Manager Environment, Health & Safety of PT Agincourt Resources presents Certificate of Appreciation to Sartika Permata, 1st Winner of the 2022 Martabe Innovation Award, in Batangtoru, South Tapanuli, North Sumatra. 
Ruli Tanio, Vice President Director of PTAR, made these comments about this exciting event: 
"Through the Martabe Innovation Awards, individuals and community groups around the mining operation area join together to encourage and give birth to new ideas that will have positive impacts on the environment and biodiversity." 
Katarina Siburian Hardono, PTAR Senior Manager of Corporate Communications, added that the Company really appreciates the individual and group participants who took part in this 2022 MIA: 
"While we see here a lot of creative and innovative souls making breakthroughs in the environmental field, we can imagine the potentials that will be transmitted with the spirit to further develop environmental sustainability." 
Award winner Sartika Permata appreciated the opportunity to express and have recognized her ideas and work, namely the Sumber Rezeky waste bank involving a number of residents of Huta Ginjang Village, East Angkola, South Tapanuli: 
"The Martabe Innovation Awards is really amazing. This Award is motivating to continue, to expand and to seek a budget from the South Tapanuli Regency Government for warehouses and machinery, all while I have the confident to mentor others." 
Sumber Rezeky waste bank involves residents collecting recyclable waste, such as plastic bags, glass bottles, cardboards, metal, and iron, with the aim of reducing rubbish piles. The waste is then converted into items of economic value such as benches, aprons, bags, compost, and animal feed. From these activities, millions of Rupiah can be earned by residents every month. 
PTAR carries out many environmental conservation actions in all areas of mining operations and beyond. One of these is having planted more than 41,000 tree seedlings inside and outside Martabe Gold Mine area from 2012 to 2021.  This one action will produce roughly 18 million kilograms of oxygen per year and absorb and sequester about 1 million tons of carbon dioxide per year, while at the same time providing a three dimensional habitat for multiple living organisms – large and small. 
In addition, in 2021, PTAR rehabilitated up to 9.02 hectares of land, covering 3.88 hectares of operational area and 5.14 hectares of exploration area. 
This realization exceeds the 2017-2021 PTAR Reclamation Plan which had been approved by the Ministry of Energy and Mineral Resources. The target were stated as rehabilitation in operational areas of 3.88 hectares and in exploration area of 0.28 hectares. 
Of note in the field of biodiversity, PTAR collaborates with Persamuhan Bodhicitta Mandala Medan (YPBMM) foundation for Sumatran Tigers. PTAR also collaborates with a number of NGOs who care about biodiversity and conservation within membership of the 2021 Batangtoru Conservation Activists.