Batangtoru, 2 June 2022 – The operator of the Martabe gold mine, PT Agincourt Resources (PTAR), and the community of Batu Horing Village, Batangtoru, South Tapanuli released 15,000 fish seeds to Batu Horing River, consisting of 5,000 mahseer fish seeds (local endemic species) and 10,000 Nile tilapia seeds. This fish seed release is a PTAR's contribution to supporting the efforts to preserve the environment
PTAR Community Relations Manager, Masdar Muda, said that environmental preservation is the responsibility of us all.
"We hope there will be involvement and a sense of belonging to Lubuk Larangan which is currently rare in Batangtoru. This activity is a breakthrough of the head of a village in collaboration with PTAR. We hope this activity gives a major impact on the village community," Masdar said.
The fish seed release at Lubuk Larangan of Batu Horing River was attended by PTAR Community Senior Manager Christine Pepah, Military Regional Commander (Danramil) of Batangtoru, Chief of Sectoral Police (Kapolsek) of Batangtoru AKP Tona Simanjuntak, Subdistrict Consultative Council (Muspika) of Batangtoru, and community of Batu Horing Village.
Lubuk Larangan is considered as a local wisdom that has a strong influence in customary practices of natural conservation and preserving the river from pollution, destruction, or excessive exploitation. Lubuk larangan is a collective customary policy to strengthen community awareness in preserving local fish species which are increasingly rare to find at the river, especially, mahseer fish species. In a particular period, the community is prohibited from catching fish and river biota, so that the fish seeds can grow well.
The community agrees to be responsible for preserving the fish and conserving the river, this commitment is strengthened by the preparation of village regulations containing prohibition and sanctions for those who commit the violation, until Lubuk Larangan is then opened and the community is allowed to harvest fish there.
In addition to preserving the surrounding environment, Lubuk Larangan will also stimulate the local community's economy when the mahseer fish is harvested and sold, because the current market price of mahseer fish reaches IDR 60,000 per kilogram.
The Head of Batangtoru Subdistrict, Maratinggi Siregar, really supports this by taking the initiative to make the opening of Lubuk Larangan in Batu Horing Village as an annual agenda of Batangtoru Subdistrict. This agenda will be promoted to the community outside Batu Horing Village to attract their interest in coming to fish at Batu Horing River.
"There are many positive impacts on the community when Lubuk Larangan is established, the local community can sell some food so that economic actors emerge. We really appreciate PTAR's participation in this activity so it creates domino effects in the future," Maratinggi said.
The head of Batu Horing Village, Derikson Tua Pandiangan, stated that those who catch fish during the specified time will be subject to a fine of IDR 1 million per person.
"This sanction is necessary to be made so that all of us can get the benefits of Lubuk Larangan, when we can harvest the fish together," Derikson said.
This fine arrangement gets a support from the Head of Batangtoru Subdistrict. He suggests that the fine would not only apply to the community, but also to the committee of Lubuk Larangan. The fine amount for the committee is also bigger, namely IDR 2 million per person.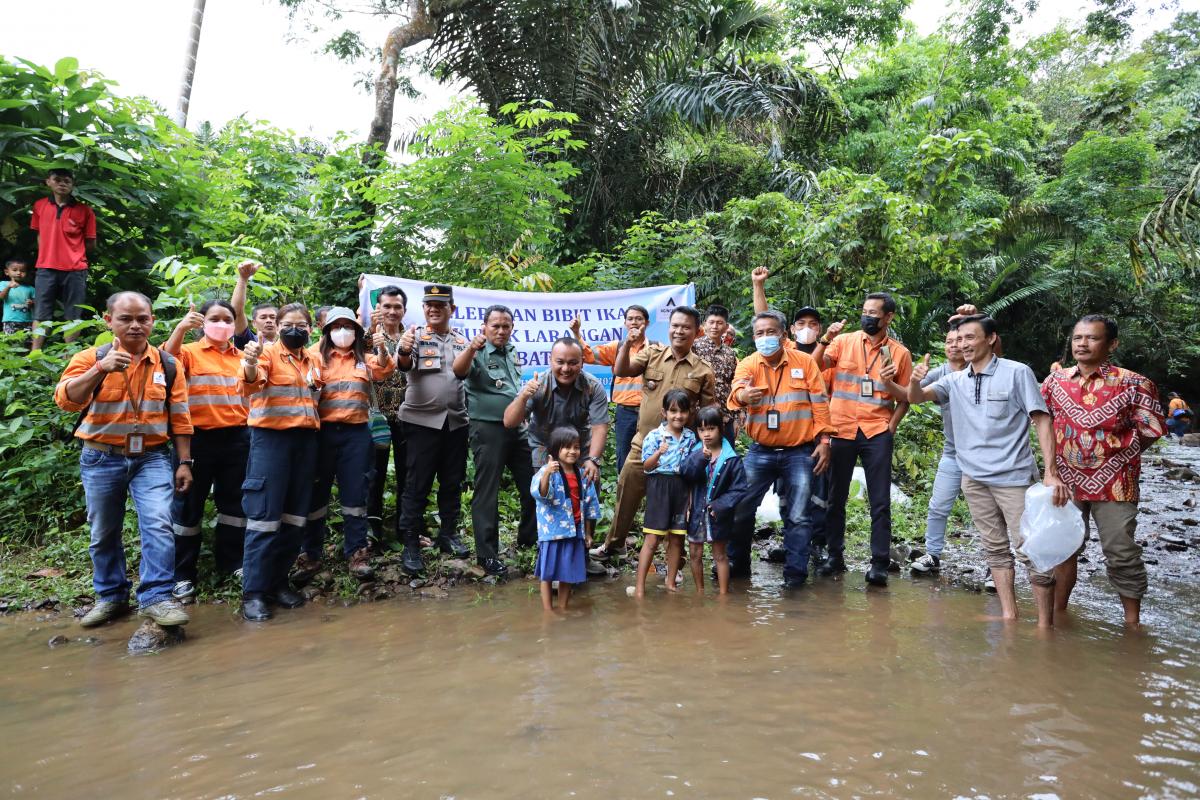 PTAR and Muspika Batangtoru took a group photo after releasing mahseer fish seeds at Lubuk Larangan of Batu Horing River.