Batangtoru, 30 December 2021 – PT Agincourt Resources (PTAR), the operator of Martabe Gold Mine, once again held the 2021 E-Coaching Jam (ECJ) by using the theme of "Be Adaptive Think Creative." This activity was carried out with Universitas Muhammadiyah Tapanuli Selatan (UMTS) which was held virtually and attended by approximately 200 college students of UMTS, Wednesday (29/12).
PTAR General Manager Operations, Rahmat Lubis in his welcoming speech said that this was the first collaboration with UMTS, and it was an honor for PTAR to be able to hold the activity of E-Coaching Jam in collaboration with UMTS. "The ECJ is a regular PTAR program that is intended to build enthusiasm and confidence of college students in facing the development era by providing the college students with new practical knowledge. In this ECJ, there were several material aspects delivered to the college students among others the skills of speaking, digital communication, occupational safety and health, and entrepreneurship," explained Rahmat. Moreover, Rahmat continued, this activity was expected to further strengthen the relationship between UMTS and PTAR.
In the third virtual ECJ held throughout 2021, PTAR presented speakers from the internal professionals. Four representatives from PTAR were Reni Nugrahika Radhan, Public Relations Manager who shared knowledge on public speaking, Haris Juan Sihaloho, Occupational Safety and Health (OH&S) and Training Development Manager who delivered the material on occupational safety & health, Ifan Farianda, Local Economic Development Superintendent who shared about entrepreneurship, and Teresia Prahesti, Communications & Outreach Strategy Superintendent who delivered a material on digital social media.
The Vice Rector II of UMTS, Putoro Dongoran, MH, representing the Rector of UMTS Dra. Muhsana Pasaribu, MA expressed his gratitude to PTAR for the ECJ activity which this time involved UMTS. "This ECJ activity can bring enlightenment to the college students of UMTS, especially to increase the college students' talents or creativity for their future," said Putoro. Putoro hoped the E-CJ activity in collaboration between PTAR and UMTS could be carried out not only this time but also continuously. "Since events like this are certainly highly beneficial for our college students," he said.
Rivaldi Ilhami, a Semester 3 college student of Law Major in UMTS admitted that he was really enthusiastic about this ECJ event. "I can learn more about public speaking materials," said Rivaldi. Meanwhile, Yuni Sarah Harahap, a semester 5 college student of Economics Education Major admitted that the materials delivered by the speakers considerably increased her motivation and made her more enthusiastic in facing the future.
PTAR Senior Manager Corporate Communications, Katarina Siburian Hardono said even though we were still in the Covid-19 pandemic era, PTAR continued to commit to holding the ECJ program in 2021. Katarina explained that ECJ is an education and collaboration program initiative from PTAR which was held online and face-to-face between college students and many mining practitioners/experts from Martabe Gold Mine with various sectors.
Since it was first conducted in 2014, the ECJ was successful in bridging the discussion for more than 45 mining experts and more than 3,500 college students throughout Indonesia, among others from ITB Bandung, ITM Medan, UGM, UNDIP, UPN Yogyakarta, UNSOED, USU Medan, UNSYIAH ACEH, UNISBA Bandung, UNSRI Palembang, etc.
"The E-Coaching Jam Program was even awarded with the CSR Indonesia Awards in 2019 and 2021," said Katarina.
Katarina added, the ECJ program was expected to be able to add insight to the college students especially in the sectors of communication, health and safety, entrepreneurship, and digital world. "We hope that the materials presented can complement the knowledge that the UMTS students have gained in the education world and give inspiration and also new enthusiasm for the college students," Katarina concluded.

Photo 1: PTAR General Manager Operations Rahmat Lubis when delivering his welcoming speech in the E-Coaching Jam event held by PTAR in collaboration with UMTS of South Tapanuli, Wednesday (29/12).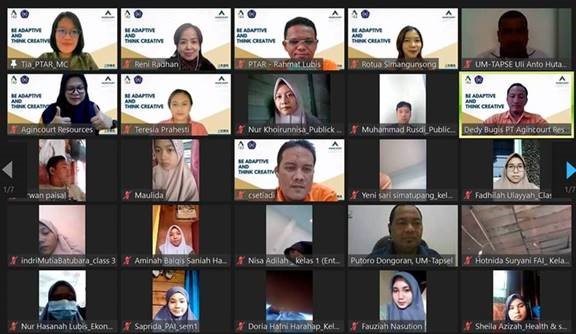 Photo 2: Virtual E-Coaching Jam held by PTAR with UMTS of South Tapanuli was attended by hundreds of college students of UMTS, Wednesday (29/12).