Batangtoru, 23 February 2022 – PT Agincourt Resources (PTAR), the operator of Martabe Gold Mine donated props worth IDR 1.45 Billion to Head Master of State Vocational High School (SMKN) 2 Batangtoru in order to improve the quality of Link and Match program of vocational schools. The props donated were in the form of six cutaway components for the heavy equipment type of hydraulic excavator of Komatsu PC 200 class, simulator basic electrical system, and special tools of Machine Inspection Program (Program Pemeriksaan Mesin/"PPM") and Lubricant Analysis Program (Program Analisa Pelumas/"PAP"). The props were directly handed over by PTAR Senior Manager Community Relations, Christine Pepah to the Head Master of SMKN 2 Batangtoru, Nurlaili, S.Pd at SMKN 2 Batangtoru on Friday, 18 February 2022.
Christine Pepah stated that PTAR has commitments to implementing PPM program (Community Development and Empowerment) in the education sector, one of which is at SMKN 2 Batangtoru. This assistance program is part of Cooperative Agreement (Perjanjian Kerja Sama/"PKS") or Collaborative Agreement among PTAR, SMKN 2 Batangtoru, and PT United Tractors Tbk, (UT) through the program of PT United Tractors Tbk Assisted Schools (Sekolah Binaan PT United Tractors Tbk/"SOBAT"), signed on 21 February 2020 regarding the assistance and development of Link and Match competency-based vocational high schools with the industry.
SOBAT is a program initiated by UT to assist technical education in Vocational High Schools throughout Indonesia with the objective of improving the quality of students and teachers while preparing school transformation so that they can compete in the Business World and Industrial World (Dunia Usaha dan Dunia Industri/"DUDI"). "PTAR gives support for learning process, especially for the major of Heavy Equipment Engineering (Teknik Alat Berat/"TAB"), so that SMKN 2 Batangtoru can improve vocational education quality through the props donation of the 9 types of electrical props and simulator and also supporting equipment worth IDR 1.451.750.000. In addition to the props, PTAR cooperating with UT School Jakarta also provided training to 5 teachers regarding the operations and maintenance of this equipment." Christine said.
Furthermore, Christine continued, in November 2020 PTAR provided assistance in the form of concrete road access construction for the entrance to SMKN 2 Batangtoru of 210 meters, green line construction of 300 meters, and two garbage bin units, and also occupational safety simulator equipment with a total assistance value of IDR 751 million.
On 18 January 2022, practical equipment of Heavy Equipment Engineering was also handed over by UT to SMKN 2 BTR in the form of Steering Gear, Steering Pump, Water Pump worth IDR 32 million. In addition, in 2021, UT provided several trainings such as Basic Mechanic Course Training, Periodic Service Small Hydraulic Excavator Training, Periodic Service Small Bulldozer Training, and Periodic Service Scania P360 Training. The trainings were delivered in Medan and Jakarta.
Christine added that according to the collaborative agreement among 3 parties, one of PTAR's roles in providing hardware props is to encourage teachers and students' competence and improve quality of graduates and education in SMKN 2 Batangtoru. Meanwhile, UT focuses on software and brainware development. "Through the synergetic collaboration between PTAR and UT for the advancement of SMKN 2 Batangtoru, we deeply hope this school will be more accomplished and more advanced than other vocational schools (SMK) or even become a reference for other SMKs, and also have networks throughout Indonesia especially with the support from SOBAT UT program," Christine said.
According to her, PTAR and UT wanted SMKN 2 Batangtoru to be more advanced and competitive, even up to regional and national levels if all supports that have been given so far are utilized and used properly. "PTAR continues to hold onto its commitment to not only in the major of Heavy Equipment Engineering, but also other majors in SMKN 2 Batangtoru, among others giving opportunities for apprenticeship program at PTAR," Christine said.
In addition, PTAR Senior Manager Corporate Communications, Katarina Siburian Hardono added that in 2021 PTAR conducted a basic study for other 2 SMKs in the agriculture sector in Batangtoru and Muara Batangtoru. It is hoped that the development can be conducted gradually with other SMKs in 2022. "It is hoped this program expansion will expand the impacts and quality of PTAR's PPM programs in the Education Sector around the mine in particular and South Tapanuli in general," Katarina said.
The Head Master of SMKN 2 Batangtoru, Nurlaili S.Pd expressed her gratitude to PT Agincourt Resources and PT United Tractors Tbk which had supported the advancement of SMKN 2 Batangtoru through this SOBAT program. According to her, this program highly supported the quality improvement for the link and match education program, particularly in SMKN 2 Batangtoru. "With this program, I hope students at SMKN 2 Batangtoru can be more advanced in the future and be ready to enter the world of work with high competitiveness," she said.
Furthermore, the assistance provided is based on the Collaborative Agreement among the 3 parties, among others: Mentoring and Strengthening of Link and Match Curriculum Synchronization with DUDI, Teaching Factory development, learning concept in SMK based on goods production or services referring to the standards and procedures of industrial world. In addition, there is mentoring program between teachers and students through training and learning in class by guest teachers from UT and PTAR, Industrial Work Practices by students and teacher apprenticeship program and also certification test implementation for students and teachers, as well as development and strengthening of facilities and supporting infrastructures of the heavy equipment engineering major. A series of activities to improve education quality in Batangtoru facilitated by PTAR was also conducted since the end of 2019. These included the comparative study of SMKN 2 Batangtoru to SMK (private) 2 PGRI Ponorogo, initial provision from SMK (private) 2 PGRI Ponorogo to SMKN 2 Batangtoru, and initial assessment activity of school condition and Heavy Equipment Major.***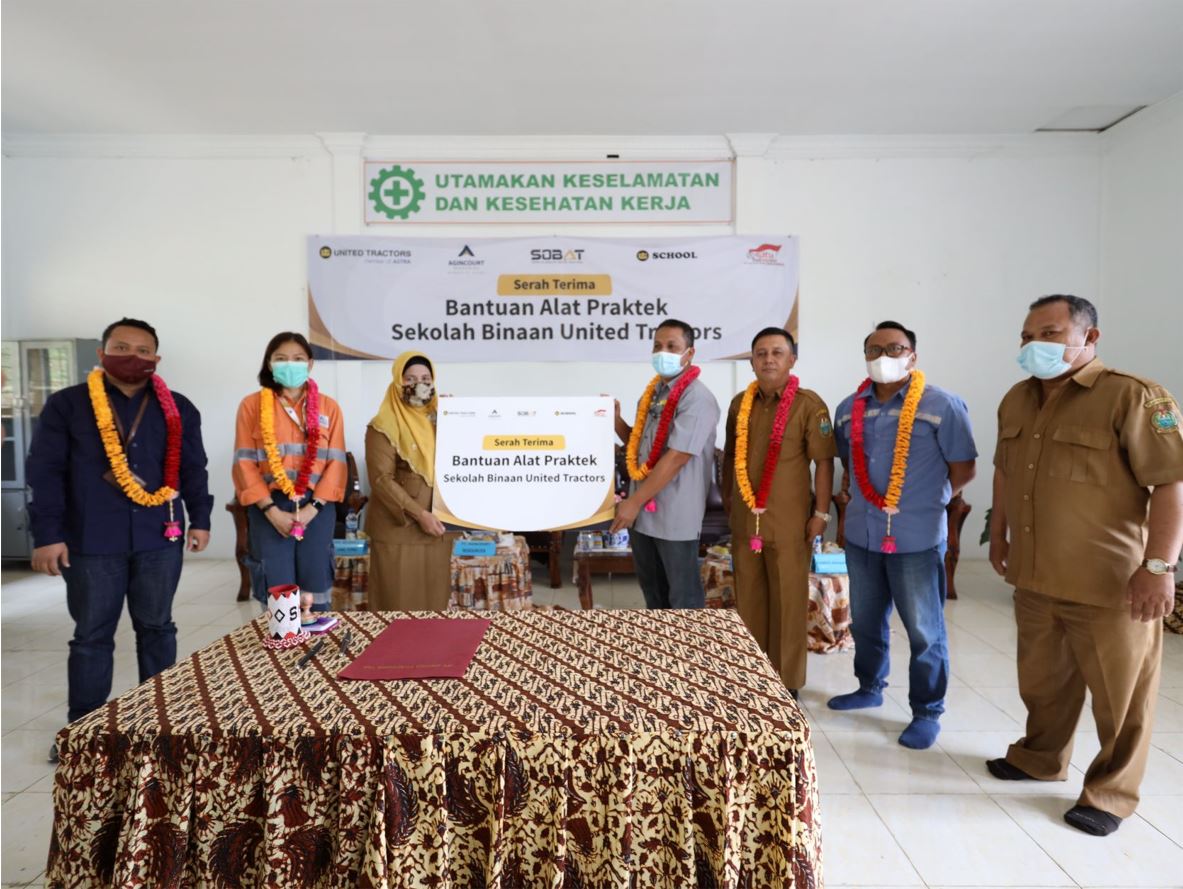 Photo 1: Donation handover of practical equipment to SMKN 2 Batangtoru of Heavy Equipment Major handed over by UT Services Department Head Dedi Hamdani, witnessed by PTAR Senior Manager Community Christine Pepah and representatives of Education Agency Branch of Padangsidimpuan, Tuesday 18 January 2022.
Photo 2: Group photo during donation handover of practical equipment for Heavy equipment major to SMKN 2 Batangtoru, Friday 18 February 2022 .