Batangtoru, 7 August 2022 – PT Agincourt Resources (PTAR), the operator of Martabe Gold Mine, initiated the Revitalization of Integrated Services Post (Posyandu) in 7 pilot targeted villages in Batangtoru and Muara Batangtoru Subdistricts, South Tapanuli District, North Sumatra, with the target of strata increase of Posyandu gradually towards Independent Posyandu (Posyandu Mandiri) focusing on the health of mothers and children.
PTAR General Manager Operations, Rahmat Lubis, said that the company's strategic plans for the Community Development and Empowerment Program (Pengembangan dan Pemberdayaan Masyarakat or "PPM") in 2022 focuses on the increase in the quality and services of education, health, social and culture, economy, and basic infrastructures for the community.
"There are quite a lot of programs that have been conducted by PTAR to increase the health services access and quality in the community, one of them is the Posyandu Revitalization Program," he said.
The Program of Posyandu Revitalization is part of national programs, in the document of National Medium Term Development Plan (Rencana Pembangunan Jangka Menengah Nasional or "RPJMN") and the Strategic Plan of the Health Ministry for 2020-2024, where Posyandu is a place for a meeting point between the services of health workers and public active roles in overcoming health problems, especially the efforts to decrease infant mortality rate and birth rate.
As the form of PTAR's commitment in the implementation of this program, PTAR along with the Regional Health Agency of South Tapanuli and experts from CV Sinergi Medika Indonesia signed the Cooperation Agreement of Posyandu Revitalization Program in 7 targeted villages in July 2022.
This 6-month program targets 7 Posyandu, five of them are in Batangtoru Subdistrict, distributed in Napa Village, Hapesong Lama Village, Aek Pining Kelurahan, Wek II Kelurahan, and Telo Village. Two other Posyandu are in Bandar Hapinis Village and Terapung Raya Village in Muara Batangtoru Subdistrict.
PTAR Senior Manager Community, Christine Pepah, explained that in addition to making Posyandu services more optimal, Posyandu Revitalization Program also empowers health cadres in terms of knowledge and soft skill improvement. The cadres are expected to be skillful in screening health and giving awareness, be able to use iPosyandu application, and prepare the follow-up plan.
"This Posyandu Revitalization Program is expected to impact on the increase of public health status in 7 targeted villages such as improving the nutritional status and the health of mothers and children as well as improving posyandu strata," Christine said.
The Posyandu Revitalization is also directed to support the expansion of services target in Posyandu. Therefore, Posyandu services are not limited to mothers and infants, but they can serve other family groups such as adolescents, the elderly, and the Integrated Development Post (Posbindu) services.
In the series of Posyandu Revitalization Program, on 4 August 2022, the health cadres received knowledge on diarrhea treatment and stunting prevention via webinar themed "Knowing Health Problems and Child Health Services in Posyandu" presented by a pediatrician, Fitria Mahrunnisa, M.Sc., Sp.A.
PTAR's commitment to the community development and empowerment in the health sector in 2022 is also showed by launching the Program towards Tuberculosis-Free South Tapanuli (ENTAS-TB) to suppress the communicable disease incident of tuberculosis in South Tapanuli.
This program targets the same seven villages, namely Aek Pining Kelurahan, Telo Village, Napa Village, Hapesong Lama Village, Wek II Kelurahan, Terapung Raya Village, and Bandar Hapinis Village. In this program, PTAR cooperates with the Government of South Tapanuli District and KNCV Indonesia Foundation.
The Head of Aek Pining Kelurahan, Hendra Sakti Siregar, gave positive appreciation for the Posyandu Revitalization Program performed in seven targeted villages, including Aek Pining Kelurahan.
"This program highly impacts on the health cadres. When this program started to be implemented and the cadres received health education, the cadres immediately collected the data of infants to the elderly. As a result, the data collection of community health is more complete than before," Hendra said.
The Chairman of TP PP Aek Pining Kelurahan, Puji Lestari, added that the Posyandu Revitalization Program has further increased the effectiveness of a 5-table system at the Posyandu, especially the 4-table focusing on nutrition counseling.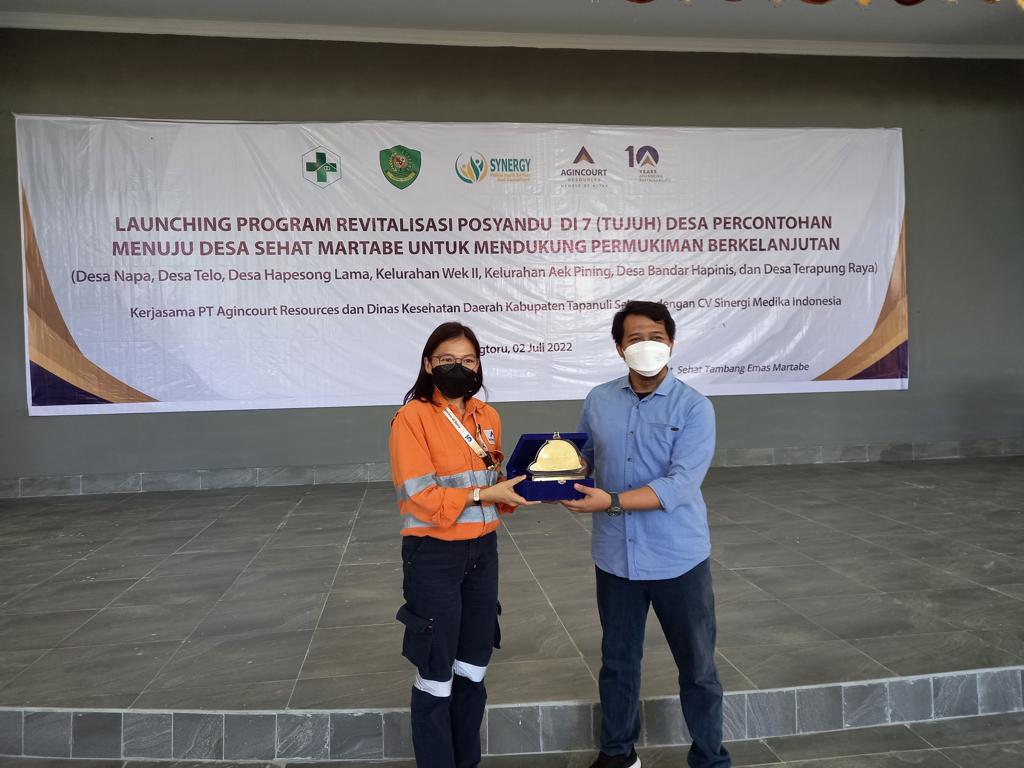 PT Agincourt Resources Senior Manager Community Christine Pepah handed over a plaque of appreciation to the Director of CV Sinergi Medika Indonesia Dani Ferdian at the launch of Posyandu Revitalization Program in Batangtoru, South Tapanuli, North Sumatra, 2 July 2022. (Doc: PTAR)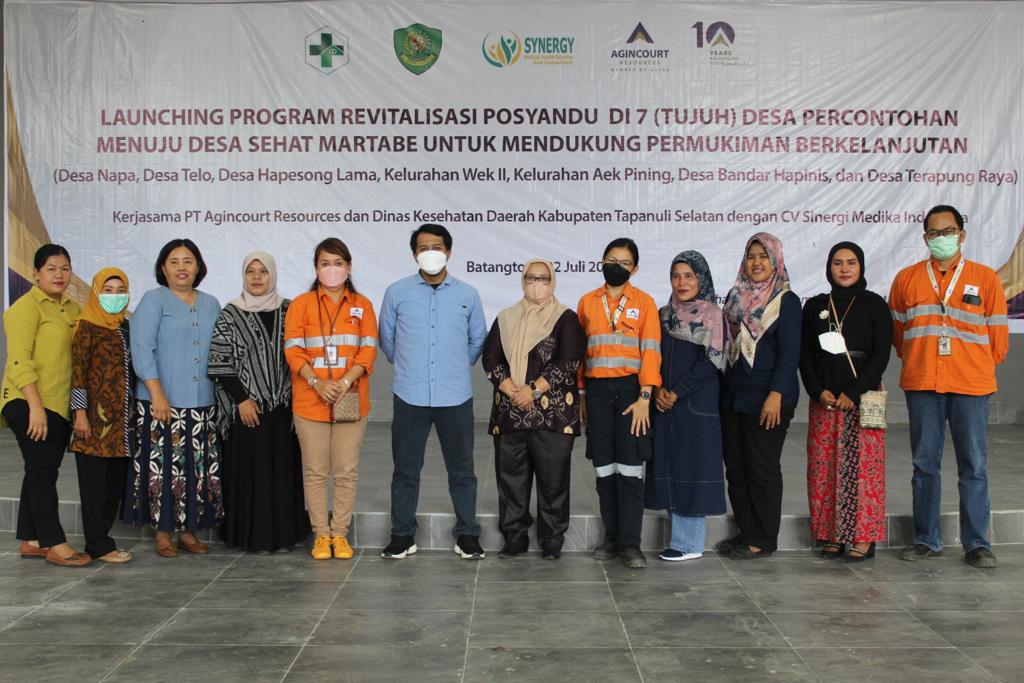 PT Agincourt Resources initiated the Posyandu Revitalization program in 7 pilot targeted villages in Batangtoru and Muara Batangtoru Subdistricts, South Tapanuli District, North Sumatra, 2 July 2022. (Doc: PTAR)
Martabe Gold Mine Overview
The Martabe Gold Mine is managed and operated by PT Agincourt Resources. The mining area covers an area of 30 km² which is under the sixth generation Contract of Work (COW) with a total area of 1,303 km². The Martabe Gold Mine is located on the west side of the island of Sumatra, Batang Toru Sub-district, North Sumatra Province.
The Martabe Gold Mine began full production on 24 July 2012 and has a resource base as of 30 June 2021, of 7.5 million oz of gold and 66 million oz of silver. The operating capacity of the Martabe Gold Mine is more than 6 million tonnes of ore per year to produce more than 300,000 ounces of gold and 2-3 million ounces of silver per year.
PT Agincourt Resources involves more than 3,000 employees and contractors, around 99% of whom are Indonesian citizens, and more than 70% are from local villages.
PT Danusa Tambang Nusantara (PTDTN) holds 95% shares of PT Agincourt Resources. PTDTN is a subsidiary of PT United Tractors Tbk. with 60% share ownership and PT Pamapersada Nusantara with 40% share ownership, as well as part of PT Astra International Tbk business group. A total of 5% of PT Agincourt Resources' shares are owned by South Tapanuli District Government and North Sumatra Provincial Government.
For other information, please contact:
Katarina Siburian Hardono
Senior Manager Corporate Communications of PT Agincourt Resources
M +62 811 9005146